Can These Pulsating Pants Make You Look Younger?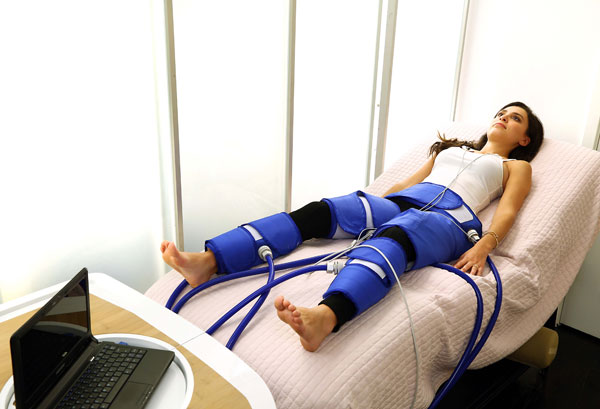 As a beauty editor, sometimes I get to test things that I normally wouldn't have the opportunity to try. This was the case with an interesting new treatment at the Erno Laszlo Institute, dubbed Pureflow. The treatment doesn't involve any skincare or body products being applied by an esthetician in a soothing spa environment. Yet, it still boasts tons of anti-aging and overall body health benefits. Do I have your attention yet?
Imagine lying on a bed with your legs wrapped in pulsating cuffs, kind of like the kind that they use to test your blood pressure. This is Pureflow Pulsation and it aids in a variety of health concerns like cardiovascular health, blood flow, detox and more. You simply lie there for 45 minutes while the cuffs pulsate in sync with your heart rate. The "passive cardiovascular" treatment promotes a ton of anti-aging benefits, too. It boosts antioxidants effects, increases stem cell production, improves your complexion and reduces swelling. Not to mention it helps boost metabolism and helps athletes recover from injuries faster. Cool, right?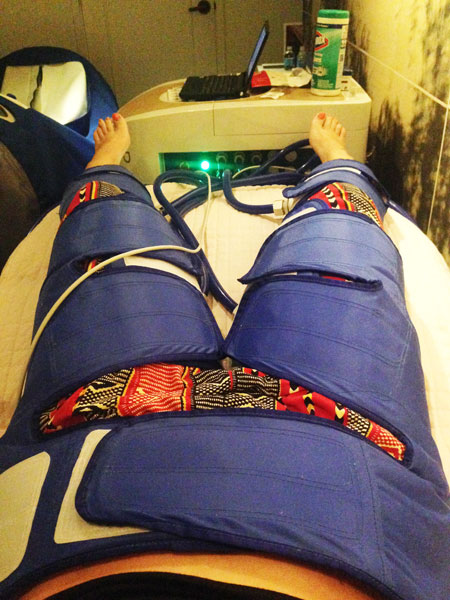 That's me rocking the pulsating pants.
I tried the Pureflow treatment this week and it was definitely like nothing I've never experienced before. The pulsing can range from low to high levels. I started at the medium level and was bumped up to high after 20 minutes. I lay comfortably on the bed for the allotted time, checking my emails and chatting up with friends. They say a lot of people fall asleep, although I found that, even though it wasn't painful or anything, the strong pulsations made it hard for me to nap. Afterwards, I felt totally fine. I wasn't sore or achy, but I did have a lot more energy, which was great for my commute home after a long day. Oh, and I slept like a baby and hit the snooze button for a good hour until I forced myself out of bed. 
I can't attest to the anti-aging benefits just yet, since I only did one session. But it was a great form of detox and gave me a nice energy boost. For more information on Pureflow, go to
ErnoLaszlo.com
. Prices range from $175 for a single session to $1500 for a pack of 12 sessions. 
Keywords
Get the latest beauty news and inspiration!
Sign up for our newsletter to receive the latest from Beauty Blitz delivered straight to your inbox.