Rachel Zoe Dishes on her Latest Project: Lipstick
When we hear that there's a revolutionary new way to apply lipstick, we respond. And apparently Rachel Zoe does, too, since she's now the brand ambassador for a new kind of lip color, Exude Lipstick.
"[Exude Lipstick] approached me with this product and the technology behind it," Rachel told us at a press event for the new line. "I was really intrigued because I've been a fan of lipstick since I was ten. Anytime there's something new in something that I have so much of, I'm like, 'OK, I want to hear about it. I want to know about it.' They presented the actual technology of it and why it was so amazing, and I was skeptical, and then I was like, 'Omigod, it's kind of amazing.'"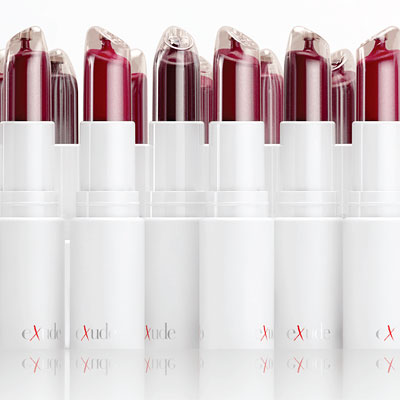 Exude Lipstick comes in a creme and gloss formula both packaged in tube with a bullet applicator. You twist the base, and the product comes out the top and you apply with that classic looking lipstick tip that never loses its shape.
"We decided that lipsticks needed a makeover," said Diane Breidenbach, a Co- Founder of Exude. "So our goal was to find a better way to apply an iconic shape lipstick with a new twist and a new formula. A regular bullet lipstick wears down, it crumbles, it breaks, it doesnt keep that beautiful angle, so we created the first ever flow through in a traditional lipstick shape in a very chic case."
Rachel played an integral part in the packaging, from the box and case to the choice of white for the tube. "I got really involved in the actual packaging," she said. "It was great and I had fun doing it."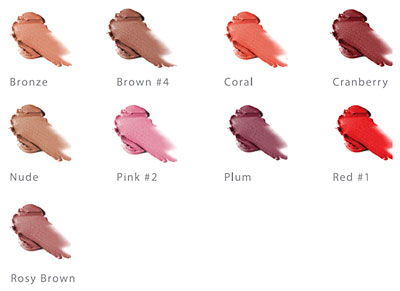 There are nine creme shades like Nude, Coral, Pink and Plum. The creme formula is slightly different than a typical lipstick. It has a creamy, gel-like texture that gives plenty of coverage with a hydrating feel and a nice minty scent. There are five gloss shades ranging from Clear to a Scarlet Red, which is anything but subtle. Try on all the shades at exudelipstick.com to see how they'll look on you.
"I'm partial to the Cranberry and the Plum, and I'm really into the Scarlet Red," Rachel said. "But I think right now in the dead of summer, I'm going to start playing with Coral and the nudes and the browns. I honestly love them all, but I will say Cranberry is the one that never leaves my bag."
And in case you're wondering about a Rachel Zoe branded beauty line, she says it's a possibility. "I'm never saying never to anything ever again, because I said never to half of the things I'm doing right now," she admits. But Rachel does feel that beauty is the next logical thing. "I honestly love [beauty] and it's part of the whole process of getting dressed. Nothing fascinates me more than the complete look of like a good liner and a smoky eye when I'm working with my clients."
Keywords
Get the latest beauty news and inspiration!
Sign up for our newsletter to receive the latest from Beauty Blitz delivered straight to your inbox.