This 1 Minute Facial May Make You a Morning Person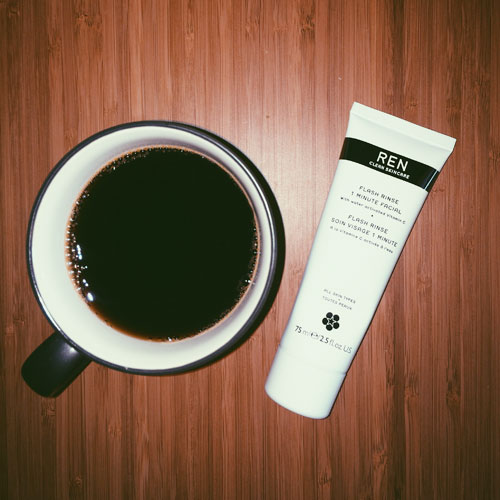 I'm not a morning person, and it shows. I tend to wake up with puffy eyes, dull skin and pillow creases on my face, and it takes at least an hour before I feel — and look — even a little bit awake.
The newest offering from high-performance natural skincare brand REN is made for not-so-early-bird types like me.
The REN Flash Rinse 1 Minute Facial ($48) is an instant skin pick-me-up that wakes up your complexion in the time it takes to brush your teeth — and the results are amazing enough to get me out of bed before 8 A.M.
Don't let the word "facial" make you think using the product is a fussy affair; it's the opposite. The treatment starts out as a gentle scrub that you massage over dry skin for a few seconds. Next, you wet your fingertips and massage for a few more seconds to unleash a potent dose of water-activated 10 percent vitamin C, as the product turns from a grainy paste to a smooth gel. Leave it on for a minute, then rinse it off to reveal super soft, instantly brighter, wide awake skin. Over time, the vitamin C can even help firm your complexion and diminish dark spots. 
I've yet to find any other skincare product that gives me a glow as fast as this one. Short of a cup of black coffee, it's the quickest way to rise and, well, shine.
Keywords
Get the latest beauty news and inspiration!
Sign up for our newsletter to receive the latest from Beauty Blitz delivered straight to your inbox.