This No-Wait Hair Mask is Like an 'Undo' Button for Damage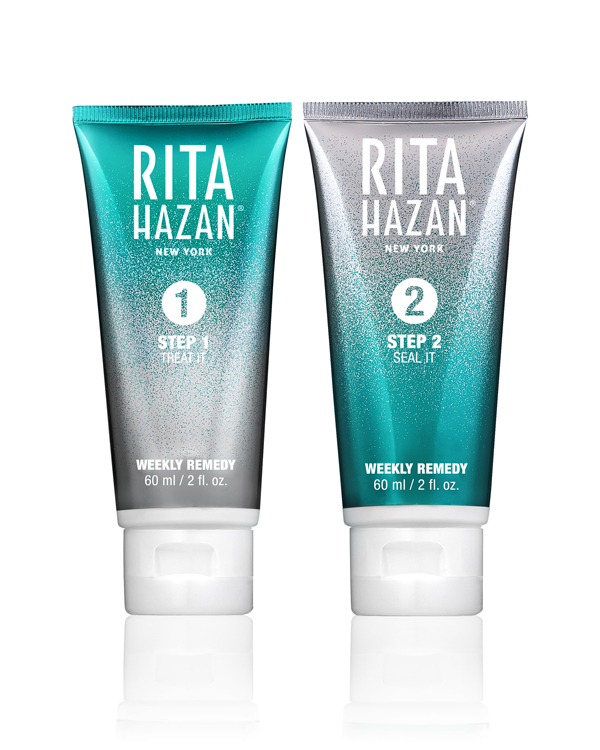 You can tell a lot about a person from her beauty product graveyard. My stash of unused products is particularly robust in the hair mask category. My wavy/curly hair is prone to dryness, but I never seem to have the time to leave a slimy treatment on my scalp for the requisite 15 minutes — or the desire to hit the sheets with a shower cap full of goo on my head. Who has the energy?
This #lazygirlproblem is the reason I'm so into the new Weekly Remedy treatment by Rita Hazan — you know her as colorist to Katy Perry, Beyoncé and Jennifer Lopez. The two-step treatment may, at first glance, seem fussier than your typical single-step hair mask. But it makes up for its multiple bottles by requiring zero wait time. Seriously — after shampooing, you just apply the Treat It step to prime the hair, rinse immediately, slather on the Seal It step and rinse again. The whole process takes about 30 seconds. Plus, you get to skip conditioner.
The reason it works, as Hazan explained at the product's launch event at her NYC salon, is all about pH levels. The first step uses a slightly acidic pH to open the hair's cuticle (don't worry, it won't mess with your color). Once hair has soaked up the treatment's blend of four hydrating oils, rice proteins and UV protectant, step 2 seals it all in. Post-treatment, "Your color looks more vibrant because your cuticle is sealed," Hazan explains. The mask also helps repair damage from heat styling, bleaching and other not-so-healthy hair habits. 
The weekly treatment works for all hair types and colors, and won't leave hair looking flat or greasy. When I tried it, my hair came out shiny, soft and bouncy. And I didn't even have to get any slimy residue on my pillowcase.
Rita Hazan Weekly Remedy ($42) is available at Ulta and Rita Hazan starting next month.
Keywords
Get the latest beauty news and inspiration!
Sign up for our newsletter to receive the latest from Beauty Blitz delivered straight to your inbox.