8 Luxe Rose Products That Are Better Than a Bouquet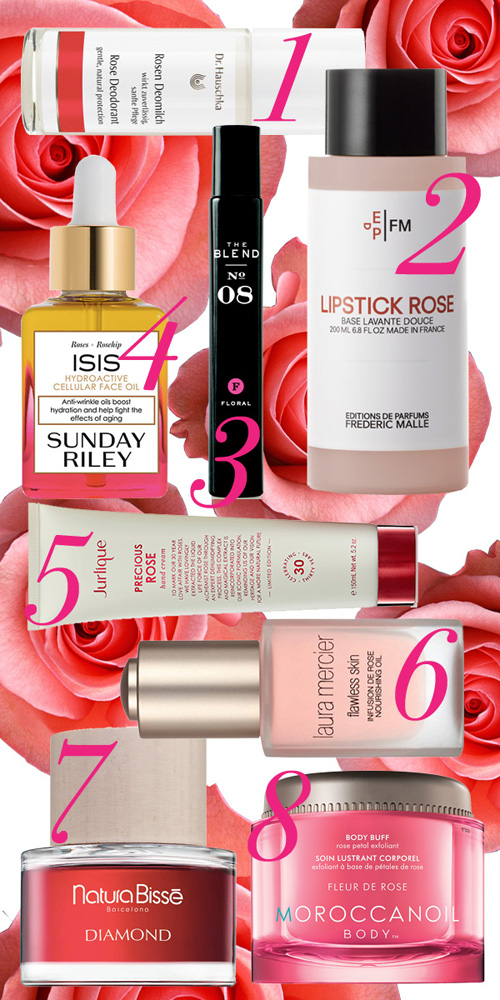 Receiving a bouquet of roses is so romantic, but then they wilt away. On the other hand, rose-blended and scented beauty products stick around for a lot longer, reminding us of the flower's beautiful scent for days on end. So, what would you prefer? In honor of June being National Rose Month, we've put together the ultimate bouquet of products to add to your beauty arsenal. From skin-perfecting oils to fancy shower gels, here are the most luxurious ways to indulge in the fleur. 
What's better than a natural deodorant? A rose-scented natural deodorant by Dr. Hauschka. Inside, rose water provides a delicate, fresh scent, while alchemilla essence protects against perspiration. Plus, jojoba oil keeps your underarms soft and nourished. Pleasant, chemical-free deodorants are hard to come by, so this organic variety is a no-brainer. 
2. Frédéric Malle Rose Lipstick Shower Gel, $55 
Frédéric Malle is known for their dreamy scents, and now the perfume house is bringing them to our bathrooms with their beautifully scented shower gels. The Lipstick Rose variety feels like you're frolicking in a bed of roses à la Mena Suvari in American Beauty. The feminine scent is rounded up with essences of grapefruit, violet, musk and vanilla to enhance the rose fragrance. 
Available at Frédéric Malle boutiques now. Available on FredericMalle.com in mid-June. 
This travel-friendly potion features an exotic blend of Turkish rose petals with spicy and green notes. You can wear the pure fragrance oil alone or blend it with your favorite perfume for a custom floral tone. The chic, rollerball packaging helps maintain the integrity of the fragrance without contamination. 
Roses also provide a ton of anti-aging benefits, as experienced in this Hydroactive Cellular Face Oil by Sunday Riley. Russian, Bulgarian and Turkish roses add broad-spectrum wrinkle support, while Rose Geranium and Palma Rosa promote lymphatic detox and aid in the production of natural oils for a supple complexion. Plus, phytonutrients keep skin hydrated and radiant, making it worth the $125 price tag. 
Treat your hands to this ultra-hydrating and soothing hand cream from Jurlique. It's the perfect balance between a luxe hand treatment and a glorious aromatic experience. It's blended with pure rosa gallica flower water extract, organic rose water and a botanical blend straight from Jurlique's farms. If you thought you were addicted to hand cream, you haven't felt anything until you experience the velvety finish of this limited-edition variety.  
This skin-conditioning super oil features rosehip seed oil and safflower oil to protect skin from environmental damage and restore moisture balance to the skin and lips. You can even use it to soothe dry cuticles and treat dry hair and flyaways. Add it to your favorite moisturizer or wear it alone for a beautiful glow. 
Barcelona-based skincare brand Natura Bisse launched this limited-edition dry oil in honor of the second annual
Beauty Lover's Day
in April. If you haven't gotten your hands on it yet, do so before it's gone for good. It's blended with Damask Rose absolute from Morocco, rejuvenating rosehip oil and antioxidant-rich sunflower oil to provide your skin with anti-aging properties and a luxurious fragrance. You won't even need perfume after applying this beautifying oil. 
Why use
harmful microbeads
to exfoliate your body when you can use fancy rose petals to polish away dead skin cells? Moroccanoil's Body Buff from the brand's new Fleur de Rose collection is made with a blend of argan, sesame, grape seed, avocado and sweet almond oils to provide intense moisture and a delicate floral scent. Skin is left radiant and revitalized.
Keywords
Get the latest beauty news and inspiration!
Sign up for our newsletter to receive the latest from Beauty Blitz delivered straight to your inbox.