Say What?? Fur Chalk for Dogs?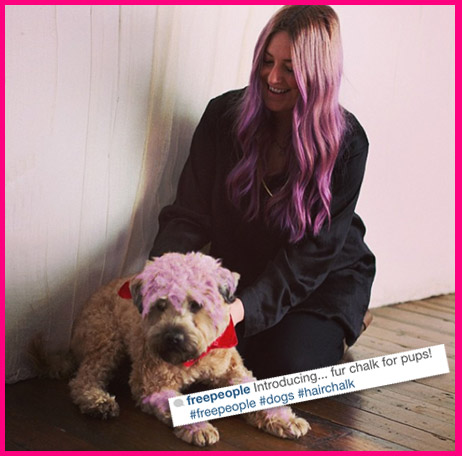 Okay, so we're totally into hair chalk. It's the perfect way to experiment with funky strands without the commitment of a permanent dye job. We've decked our hair in a swarm of colors like pink, teal, and orange, but we just came across this Instagram shot from Free People that had us going "aww" and "eww" at the same time. 
The brand already has a fantastic line of pet accessories (we're dying over the dog and cat tipis!). Now they introducing a line of "fur chalk" for dogs! Although we love a good groom job for our canine friends, this is one trend we're not feeling. Do pups really need to have their coats covered in color? Don't they look cute enough?! We're not exactly sure when these hair chalks will be available, but we're hoping they are at least pet-friendly. 
Would you use these fur chalks on your pup or is it a no-no? We're hoping that this is just an April Fools joke! 
Keywords
Get the latest beauty news and inspiration!
Sign up for our newsletter to receive the latest from Beauty Blitz delivered straight to your inbox.