Sephora Does In-Store Nail Art
You've probably already seen Sephora's nail art collaboration with Sophy Robson, but now the Sephora Nail Studio Art + Lacquer featuring XpresSpa brings the mani experience right to you in-store. You can shop the Nail Studio filled with all the shades from Sephora by OPI, Illamasqua, Dior, Nars and Nails, Inc. London, and then pick from literally a hundred nail art designs.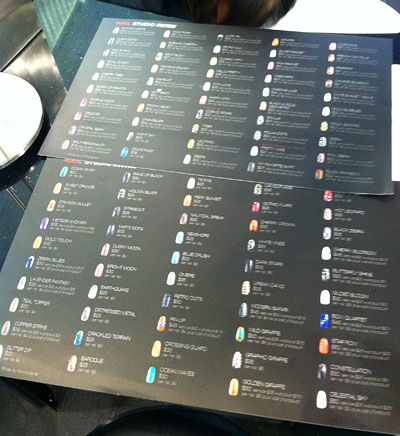 You purchase the nail polishes, rhinestones and Chic Prints needed for your design, and then a professional nail stylist will paint and perfect your nails teaching you step by step, so you can recreate your look again.
"Our clients look to us to provide not only the best products, but education and enhanced service for all things beauty," Sharon Rothstein, Senior VP of Marketing for Sephora said in a statement. "Nail art is so dominant right now and the incredible team at XpresSpa helped us provide an innovative way to respond to our clients' requests about this trend."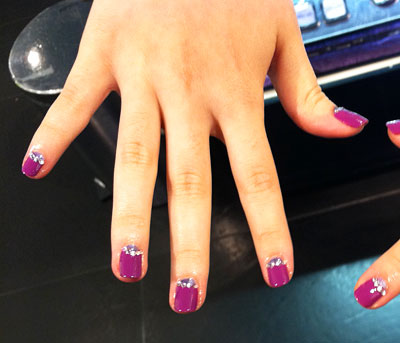 I opted for an embellished moon manicure in Sephora by OPI shades Domestic Goddess and I Don't Bite. The nail artist taught me how to create the moon mani and then placed rhinestones from the Sephora by OPI Nail Embelishment Stickers on top. There's even a drying station for you to wait at while your mini masterpieces dry.
Services range from a basic manicure for $15 to full on nail art priced from $25 to $75 depending on the intricacy of the designs. You can also get a French tip using any two shades you choose or a glittery topcoat for $20. And you can get Sephora's Chic Prints applied to your nails for $22 to $30.
There are no appointments necessary, so stop by the New York and California locations to get your own customized manicure.
New York
Sephora 5 Times Square, New York City
Sephora 34th Street, New York City (opening in August)
Sephora Roosevelt Field, Garden City (opening in August)
California
Sephora Fashion Valley, San Diego (opening in August)
Sephora Hollywood & Highland, Los Angeles (opening in August)
Sephora Powell Street, San Francisco
Sephora Santa Monica, Santa Monica (opening in August)
Sephora South Coast Plaza, Costa Mesa (opening in August)
Would you want your local Sephora to get in on the spa services, too?
Get the latest beauty news and inspiration!
Sign up for our newsletter to receive the latest from Beauty Blitz delivered straight to your inbox.