This 3-in-1 Treatment is the Next Big Thing in Korea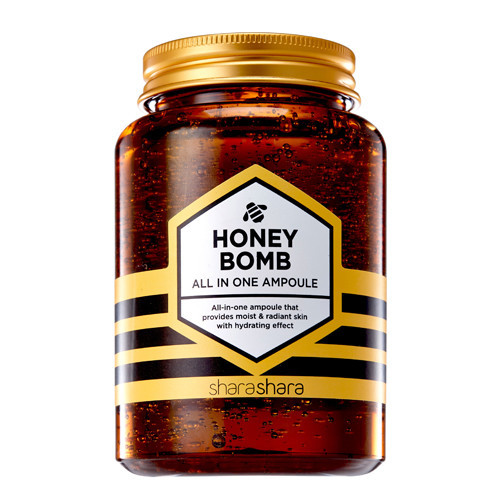 Beauty standards differ depending on where you are in the world, and so do the products that promise to make you prettier. In our Globetrotter series, we highlight our weirdest and most worthwhile finds from overseas.
We already know that Korean women are obsessed with skincare. If you're willing to go through a 10-step beauty regimen every day, you've got to be, right? In Korean skincare, some of the most sought after products are all about getting a beautiful glow (known as 'kwang'), which is why this multi-tasking moisturizer is currently the "next big thing" in Korea. Obviously, we needed to get involved, and we're so glad our friends at
Glowrecipe.com
, Christine Chang and Sarah Lee, introduced us to Shara Shara's Honey Bomb All-in-One Ampoule.
Upon looking at the Honey Bomb, you might be tempted to smear it on your toast instead of on your face. It looks like a delicious jar of honey, after all. But before you assume that this moisturizer is bound to be thick and sticky, think again. It's got a lightweight, wet consistency that feels more like a slightly heavier serum. 
The most special thing about this treatment is that it actually acts as a toner, serum and lotion in one. That shaves your 10-step regimen down to seven – score! So what does honey have to do with it all? Well, it's made with three types: Manuka (packed with amino acids and vitamins), Royal Jelly (to increase moisture) and Propolis (rich in antioxidants). Together with ingredients like bamboo extract and sea buckthorn berry extract, this treatment helps minimize fine lines, even out skin tone and leave it radiant and hydrated. Plus, it feels and smells amazing. This moisture-rich formula is going to be your go-to this summer. Use it as a mask once or twice a week to wake up glowing. 
Get your Honey Bomb on at
Glowrecipe.com
for just $40 (this jar will last you forever!). 
Keywords
Get the latest beauty news and inspiration!
Sign up for our newsletter to receive the latest from Beauty Blitz delivered straight to your inbox.