Shedding Light on UPF Clothing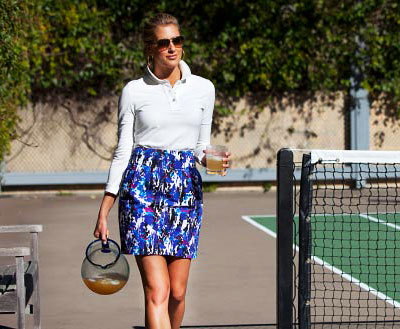 You might not realize you can get a sunburn right through your flowy summer frock. But there's actually a system for measuring the amount of sun protection your clothes offer. The Ultraviolet Protection Factor (UPF) is designed specifically for textiles and measures protection against both UVA and UVB rays. The type of fabric, weave and color all affect a garment's UPF.
Considering clothes with a UPF of 15 can block around 93 percent of UV radiation and the best protection you can get is a UPF 50, your regular clothes most likely provide a good amount of sun protection for everyday use. But if you want to up your style in the UPF department, I recommend checking out the newest label on the market, Mott 50. They deliver UPF 50 clothes and accessories from a more fashionable perspective (not that athletic gear is bad or anything!). And all the clothes are certified by the Skin Cancer Foundation.
Mott 50's founders, Monique Moore and Anne Botica, answered some of my questions about how sun protective clothes differ from that outfit hanging on the racks at Zara.
How does Mott 50 clothing protect from the sun?
There are several variables that contribute to the UPF factor in MOTT 50 clothing, including the weave, treatment and specific fabric colors used. We selected specific fabrics and colors based on the goal to provide a higher level of protection. When care instructions of MOTT 50 are followed, machine washed and line dried, the integrity of the UPF level is ensured for up to 30 washes (industry standard is 10 washes).
What makes Mott 50 clothing different from regular clothes?
 
A UPF rating of 50 means that only 2 percent of UV radiation (both UVA and UVB rays) can penetrate fabric. By comparison, the average white t-shirt has a UPF of 5 and lets in 10 times the UV rays. Sun protective clothing, certified to have an adequate UPF, is important to help ward off premature aging (wrinkles, loss of elasticity, sun spots, etc.) and for health reasons (skin cancer).
How do you know if your regular clothes have a high or low UPF?
This is not always a rule of thumb, but usually lighter weight fabrics and light colors have a lower UPF while darker clothes with tighter weaves have a higher UPF.
You also carry baseball caps and straw hats. How are they different than any other baseball cap and straw hat?
All Mott 50 hats are tested and certified to provide a UPF of 50. The straw hats are approved by The Skin Cancer Foundation, who requires a three-inch brim all the way around a hat!
Tell me: Would you spring for UPF clothing, or will you stick to your regular sundresses this summer?
Get the latest beauty news and inspiration!
Sign up for our newsletter to receive the latest from Beauty Blitz delivered straight to your inbox.