Shu Uemura's Cleansing Oil...For Your Hair!
I'm a serious fan of cleansing oil. I would get on my soap box and tell everyone how amazing it is, but I try to restrain myself. So you can only imagine the excitement that started to grow exponentially when I heard about the latest cleansing oil from Shu Uemura. His amazing range has one for every skin type and concern - brightening, aging, oily skin (oh yes!), so it only seems natural that the Shu Uemura Art of Hair line would continue the legacy with a Cleansing Oil Shampoo ($55).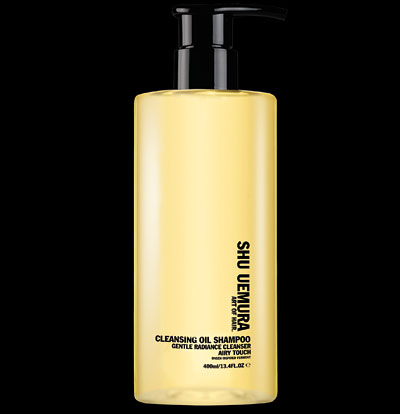 The famed Shu Uemura first discovered the benefits of oil cleansing back in the 60's when he worked in Hollywood as a makeup artist. He realized that oil-based cleansers worked wonders when removing makeup, since oil removes oil. Using that same philosophy, the new Cleansing Oil Shampoo uses oils to cleanse the scalp and remove product build up without stripping the hair of its natural oils.
Unlike the facial cleansing oils, the shampoo version does have a nice foaming lather. The paraben-free and silicone-free formula is also enriched with a purifying ingredient called "Onsen Inspired Ferment," which is actually sourced from volcanic hot springs.
This shampoo is perfect for my hair that gets greasy looking after 24 hours, plus it's lightweight, so it won't weigh down even the finest hair. But if you don't fall under the oily scalp or fine hair categories, you can alternate this with your regular shampoo for a good clean - especially from product build up.
Get the latest beauty news and inspiration!
Sign up for our newsletter to receive the latest from Beauty Blitz delivered straight to your inbox.