Erin Heatherton's Beauty Tips and How to Smell "Fresh" for Summer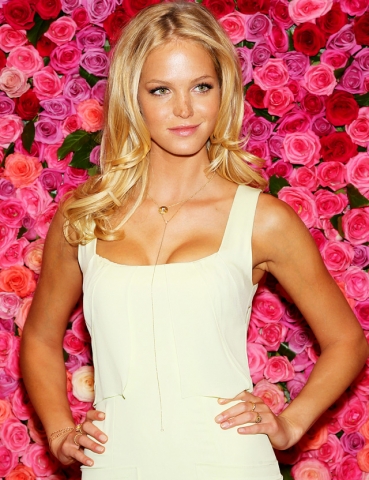 There are models and then there are Victoria's Secret Angels. Erin Heatheron has been a regular on the VS catwalk since 2008 and she is currently one of the brand's ten Angels. She let us in on her favorite beauty tips and how to pick a scent that won't smell rancid in the sun. I mean, she snagged Leonardo DiCaprio, so I'm all ears.
On learning makeup tricks from the pros:
"I learned every tip from them. I learned, first, that you can change your whole face with just different concealers in different places. Like opening up your eye by putting the lighter concealer in the middle, making it lighter under your eyebrows, making it lighter on your cheekbones and contouring underneath. I think what you can do with the most neutral colors - the most basic makeup - you can really change how fresh and beautiful you look. Even a little lip balm on your cheek bones can make you look much more beautiful."
Her makeup philosophy:
"I definitely think you should choose one thing to accentuate - never have it all accentuated - that makes it more sophisticated."
On her collection of fragrances:
"I have a whole wall of fragrances - I have a lot. I love fragrance, and in a weird way, when someone comes into my room and sees them, they kind of get a feeling of who I am. When I was a kid I always fantasized about being that girl who was feminine and had fragrances and did that kind of stuff, so I really love [my collection]. It just looks kind of like an apothecary in a way. I have this Indonesian bookshelf and it's on the top of it when you first walk in my room."
On what makes a perfect summer scent:
"Summer fragrances are generally sweeter and fresher. I find that fragrances I'm drawn to can be a little rancid when you're on the beach. You have to be careful with summer fragrances. Because when it's really hot outside and you're sweating and the fragrance comes back alive, you want something that's fresh and light and not something that's too heavy in a sweet way. You want it to be refreshing and make you smell nice, not make you smell strong."
"I love this fragrance because it's really feminie and soft. It gives me a calm, mellow feeling, and I like that kind of quiet sexiness. It's a really romantic fragrance. It's not too heavy at all."
Keywords
Get the latest beauty news and inspiration!
Sign up for our newsletter to receive the latest from Beauty Blitz delivered straight to your inbox.