Pick of the Week: Scented Earrings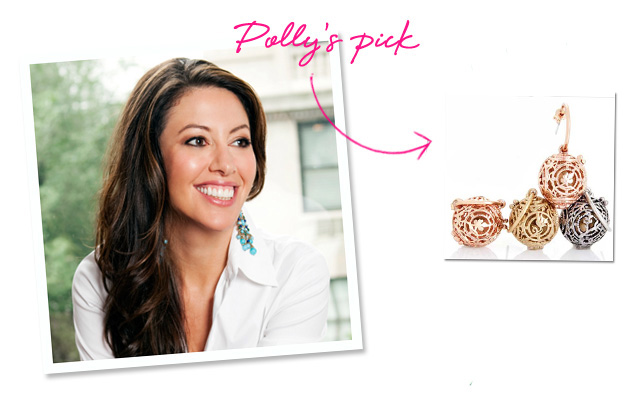 Pop quiz: Which perfume doesn't need to be applied? 
No, that's not a trick question or a silly beauty riddle.
Yesterday, I discovered a scent that doesn't need to be spritzed, dabbed or rolled on. You don't need to spray, rub or splash it either. If fact, it doesn't need to touch your skin. 
Enter Lisa Hoffman fragrance jewelry.
She designed a line of scented metal charm bracelets, necklaces and earrings. The detailed metal work reminds me of something you'd find on a trip to India. When I picked them up, I got a whiff of Are You Kidding Me? The idea is genius. These metal orbs each contain tiny scented balls. Lisa figured out a way to trap and diffuse fragrance using sustainable wood-flour beads. You can choose from five different scents: Madagascar Orchid, Tunisian Neroli, Tuscan Fig, French Clary Sage, and Japanese Agarwood. If you need a refresher, each piece of jewelry comes with a container of refill beads.
And in case scent-speak like "agarwood" and "neroli" don't ring an olfactive bell, Lisa designed a fragrance-finder. The concept, called iScentify, is kind of like Pandora for fragrance. It's based on an algorithm that gets to know your taste and finds you something you'll like based on different notes.
Every time I toss my hair or turn my head, I get a subtle dose of deliciousness. And the scent stays the same. I never have to worry about top notes fading or distortion when it interacts with my skin. It stays true all day. 
Get the latest beauty news and inspiration!
Sign up for our newsletter to receive the latest from Beauty Blitz delivered straight to your inbox.