Exfoliate from Head to Toe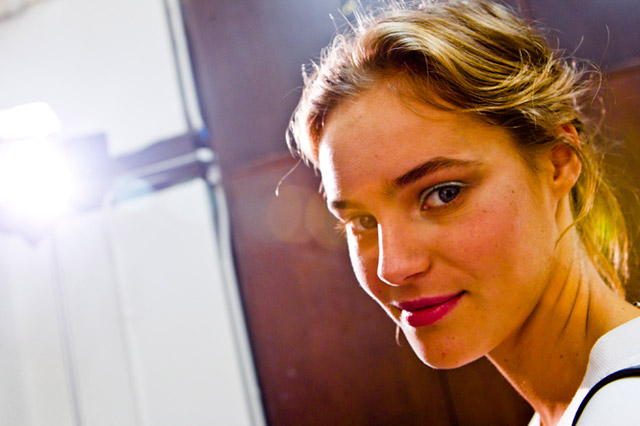 Want instant gratification? Exfoliation immediately leaves your skin smoother, softer and a lot more glowing. Here's a breakdown on why you need to exfoliate from head to toe.
On average, we shed about a million skin cells every 14 minutes, says Annet King, Dermalogica's Director of Global Education. The process by which plump, juicy skin cells move up from the bottom layer of the epidermis and eventually flatten out until they become flaky, dead skin cells is called desquamation. "It helps to hurry that process along by exfoliating your own skin - the whole body as well as the face," Annet says.
Aside from the immediate results of smoother skin, sloughing away dead cells also helps your serums, moisturizers and other treatment products better penetrate your skin, so all those expensive peptides, hyaluronic acid and botanicals can reach their maximum potential. Whether you're treating acne, wrinkles or dark spots, exfoliation helps boost your regimen's effectiveness.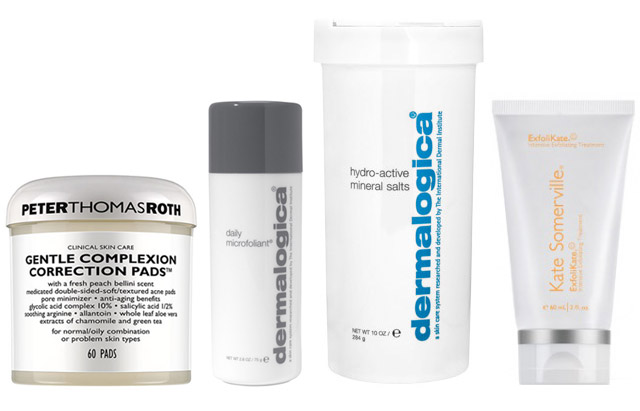 Acne-Prone Skin
"People with acne have four to five times more skin cells being produced and don't have the enzyme that helps them dissolve that glue for the [dead] cells to be released, which is why the skin gets blocked and you get a pimple," Annet explains. She recommends a daily exfoliating product like a leave-on treatment, as it's best to avoid physical scrubs that can further damage broken out skin. Look for moisturizers, cleansers and treatments with salicylic and glycolic acids. We recommend the Peter Thomas Roth Gentle Complexion Correction Pads ($36), which can be used daily to gently combat breakouts.
Dry Skin 
On the other end of the spectrum, dried out complexions need slough action, too. "Exfoliation will take off the old cells and stimulate new cells full of moisture to be brought to the surface," Annet says. We love Kate Somerville's ExfoliKate ($85) because it features both chemical and physical exfoliants that deliver amazing results.
Maturing Skin
As you age, skin's turnover cycle slows down. "Retinol has been shown to improve the visible signs of photo-aging as well as normal chronological aging when used on a daily basis," Annet says. "Studies in the past 8 years have proven, without a doubt, that topical vitamins do penetrate the layers of the epidermis and are, in fact, really drug-like in their effect on the skin." (Retinol is a form of Vitamin A.)
Sensitive Skin
"Even sensitive skin should still exfoliate," Annet says. "You would choose a product more wisely - you wouldn't want a granular [texture] or high percentage hydroxy acid." She recommends using a product like Dermalogica Daily Microfoliant ($50), which exfoliates using rice and papaya enzymes that don't irritate the skin.
Lips
"The lip does benefit from a more granular exfoliant for lifting the dried skin cells," Annet says. We love Philosophy's Kiss Me Exfoliating Lip Scrub ($15). She also recommends following a treatment with hydrating and nourishing ingredients like shea butter or jojoba oil and not petrolatum, which creates a barrier that blocks out moisture. Fresh Sugar Advanced Therapy Lip Treatment ($25) fits the bill.
Body
"In the winter exfoliation is a necessity," she says. "Nylons tend to trap dead skin cells next to your skin. Low humidity environments with central heating suck all of the moisture out of your skin. Hot baths also diminish your skin's natural barrier and moisture is stripped." Try a warm shower and using Dermalogica Hydro-active Mineral Salts ($27) as a body scrub; they're also great for a skin polishing soak.
Hands and Cuticles
Hands need exfoliation, too, and you can use either face or body products on your paws. For rough cuticles, it's best to use a chemical exfoliant like Butter London Melt Away ($20), which gently softens the hardened bits of skin around your nail bed.
Feet
Boots may cover up calluses and dried out patches, but it's still important to keep your puppies soft with professional files you can find at a beauty supply store. Feet, knees and elbows often get overlooked, so soften them up with a medi-spa quality scrub like Dermadoctor KP Duty ($44), which features both chemical and physical exfoliants for extra-duty sloughing.
Like all good things, moderation is key. Unless you're using a product that specifically says it's safe to use on a daily basis, limit yourself to exfoliating two to three times per week. After shedding your skin's lackluster layer, it's best to follow up with an extra-hydrating and nourishing treatment. For your lips, hands, body and feet, "look for ingredients like natural plant oils and shea butter," Annet says. "They are better and more nourishing than a product that just sits on the skin." For your complexion, follow up with skincare that targets your skin's specific needs.
Keywords
Get the latest beauty news and inspiration!
Sign up for our newsletter to receive the latest from Beauty Blitz delivered straight to your inbox.