The Blowout Bar of Laser Treatments
Laser treatments like Fraxel can work wonders for your complexion, but they've always required a doctor's office visit, hundreds of dollars and a high tolerance for pain.
But Skin Laundry, a California-based company that just opened its first clinic in New York, is making lasers a no-big-deal affair akin to your weekly blowout appointment. 
Founder Yen Reis launched Skin Laundry's flagship clinic in Santa Monica after relocating to the U.S. from Asia, where she'd fallen in love with the results she saw from laser and light skin therapy treatments there. She struggled to find similar treatments that were as affordable and accessible as the ones she'd experienced abroad, so she started her own clinic. Now there are six locations in California, Arizona and as of this month, New York. (There's also a pretty great
product line
.) 
In the newly opened Flatiron clinic, four treatment rooms are equipped to take clients through Skin Laundry's signature 10-minute deep cleansing process. I've done it four times now, with glowing results. The two-part treatment starts with a laser to "vaporize" dirt and bacteria, which feels like a very mild pins and needles sensation on the face. After a couple passes, a cooling gel is applied to the skin, and the session ends with a pulsed light treatment. I'm usually in and out in less time than it takes me to order a burrito bowl for lunch (and you can book online!). I've tried other "no downtime" lasers and left looking and feeling like I'd just gotten the worst sunburn of my life, but Skin Laundry's version doesn't leave my skin pink or painful — just bright and refreshed.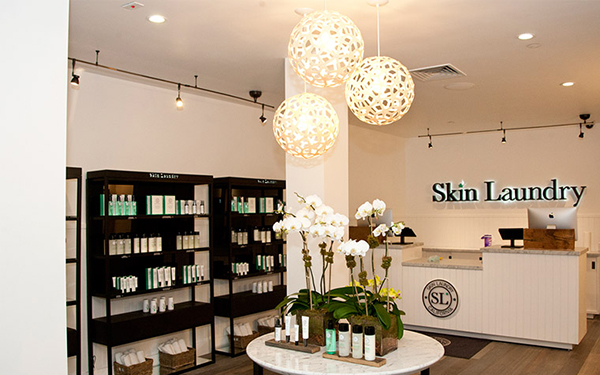 The results are both immediate and meant to be seen over time. While so far the effect on my skin isn't something you'd be able to spot in before and after photos, in person my complexion looks brighter, glowier and more youthful, and I haven't felt the need to exfoliate since starting the weekly treatments. Red blotches have always been a problem for me, and I've noticed my skin is more even-toned now. It's still too early for me to assess the long-term benefits, but the clinic's brochure promises everything from a reduced sun damage to smaller pores and fewer breakouts. (My skin did break out after one of the treatments, but I blame it on working out right after being lasered. Now I avoid sweat and makeup afterward, and my skin has been fine.)
At the NYC location, a single treatment is $100, a series of three is $210, and a series of 10 is $500. Monthly memberships are also available, with treatments working out to between $34-$65 each. Not bad for skin that looks like a million bucks. 
Skin Laundry, 3 West 16th Street, New York, NY 10011; 646-760-9298; skinlaundry.com.
Keywords
Get the latest beauty news and inspiration!
Sign up for our newsletter to receive the latest from Beauty Blitz delivered straight to your inbox.