Spring 2012 Runway Braids for Your Next Pool Party
Braids and bikinis - we can't think of a cooler combo! There is no better way to look chic on the beach while keeping your neck cool than with a braided 'do. Shay Todd, L*Space, Poko Pano and Mara Hoffman obviously got the memo at Mercedes-Benz Fashion Week Swimwear 2012, because they sent models down the runway with some great plaits.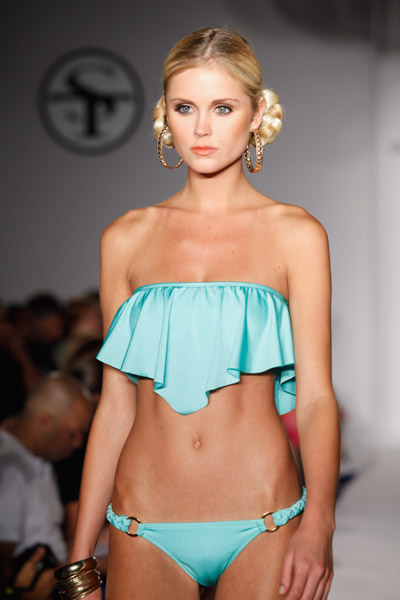 At Shay Todd, models rocked Princess Leia-like buns with hoop earrings. Both braids were sleek, polished and tightly secured on each side of a middle part.
Models at L*Space paired their bikinis with side fishtail braids topped with headbands and turbans (a great way to protect your part from UV rays).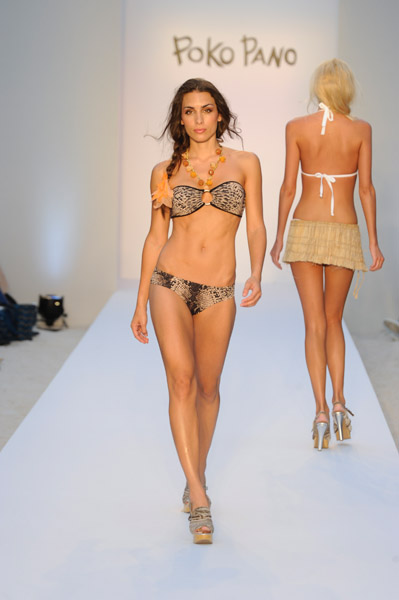 Poko Pano went with a simpler side braid accessorized with multicolored feathers and silk flowers.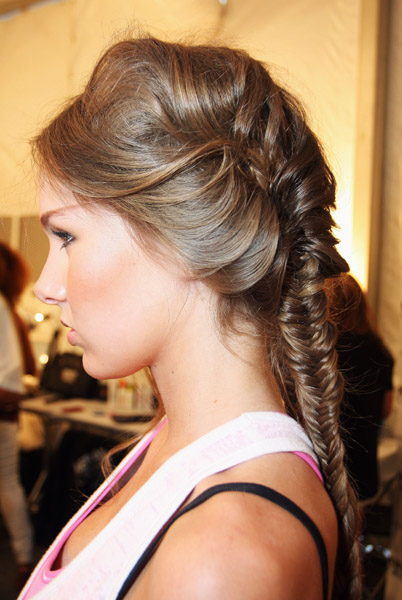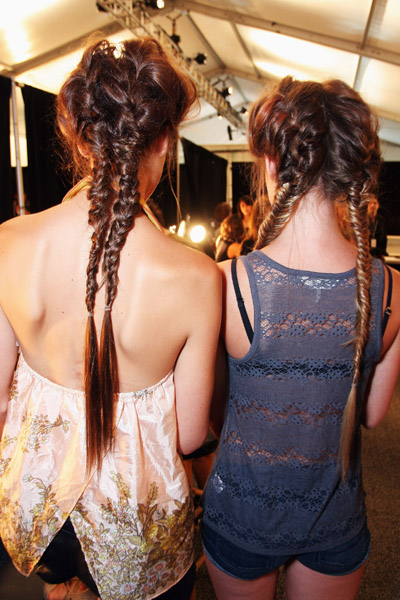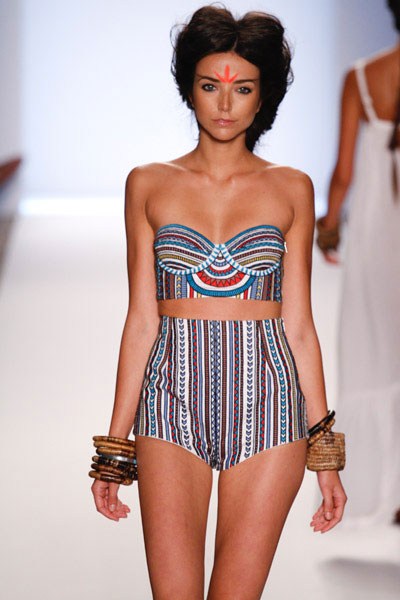 And though we loved all the plaits we saw, Mara Hoffman's fish tail braids stole the show. TRESemme Stylist Elsa Canedo created the textured look by starting with French braids at the top of the hair, then making a change-up to fishtails at the ends - a creative twist that complemented models' face paint. Here's how Elsa styled the look.
1. Create a middle part and divide hair into sections.
2. Spritz on TRESemme Thermal Creations Curl Activator Spray in each section. Then, curl each section with a 1-inch barrel iron and pin them to the head.
3. After curling and pinning each section, take out the pins and brush the curls with a paddle brush.
4. Add texture by flipping your head upside down and spraying TRESemme Fresh Start Dry Shampoo and combing it through with your fingers.
5. Divide your hair into two sections down the middle and create two French braids from the top of your head to the base of your neck.
6. Create two fishtail braids starting from the base of your neck to the ends and secure it with clear elastics.
7. Gently rough up your hair at the top of your head while loosening some pieces with your fingers. Finish it off by applying some TRESemme No-Frizz Secret Smoothing Creme in a backwards motion.
And don't worry about getting it perfect! It's definitely better if it looks like you didn't even try.
Get the latest beauty news and inspiration!
Sign up for our newsletter to receive the latest from Beauty Blitz delivered straight to your inbox.