Get the Look: Sugar Spun Nails Are as Sweet as It Gets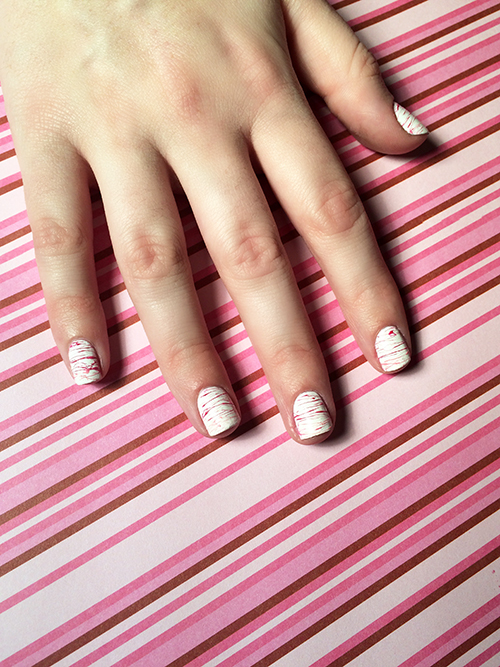 While the appeal of sticky cotton candy fingers might be debatable, these spun sugar nails are something everyone can appreciate.
To create this sugary sweet design, I began by painting my nails white with
Sally Hansen Hard to Get
. While I waited for the white to dry, I picked out three other polishes. I chose
OPI I Think In Pink
, OPI 50 is the New Fabulous and
Zoya Rooney
, leaving me with a confectionery-appropriate pink theme. 
Next I took my pinks and made a small puddle of each polish on a palette. After waiting for the puddles to reach the perfect consistency (that super thick and tacky texture you usually try to avoid with nail lacquers), I took a toothpick and dipped it in one color at a time. When you go to pull the toothpick up the polish should come with it, forming a floss-like consistency that can be dragged across your nails. 
Continue dipping the toothpick and layering the "floss" onto your nails until you've reached a level of sugar that you're happy with.  Opt out of using a topcoat in order to let the subtle texture of your manicure make a statement. 
Once you've finished, it will feel like you made the trip to a carnival, while managing to skip the extra calories and syrupy hands. 
More nail art ideas:
Keywords
Get the latest beauty news and inspiration!
Sign up for our newsletter to receive the latest from Beauty Blitz delivered straight to your inbox.