Starry Night at Rodarte - NYFW Spring 2012
Vincent Van Gogh's "Starry Night" is one of the most famous works of art in the world; it's also the painting that inspired the look for Rodarte's Spring 2012 collection. The circular movements and different shades of blue were the inspiration behind the eye makeup, nails and even hair.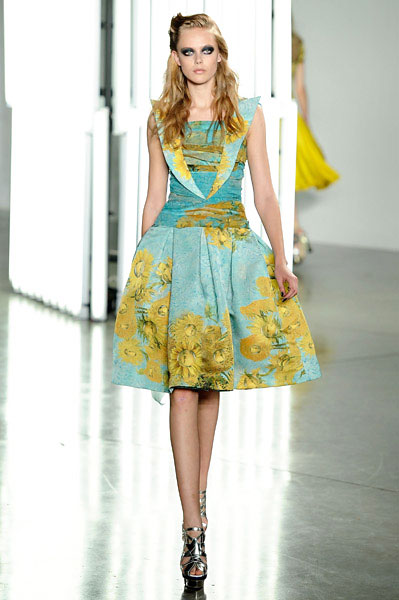 Photo: Wireimage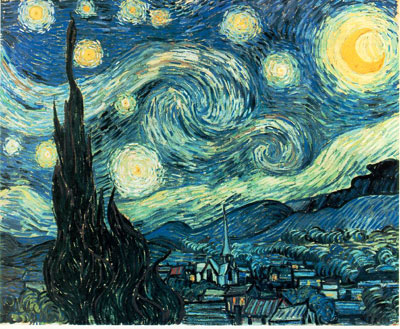 James Kaliardos for Nars created the stunning midnight blue, smoky eye with layers of dark blue shadows and liners. He began with Nars Dark Rite Soft Touch Shadow Pencil (new for Spring 2012) in a dark, metallic blue shade. On top, he applied Night Flight Eyeshadow - a really dark, dense blue with tiny reflectors. He blended the two shades with a soft, shorter brush. "If the brush is too long, it is too floppy and you have no control, and it goes everywhere," said James. He then added Tropic Shimmer Eyeshadow, a more turquoise shade with bigger sparkles. "It gives it that constellation, starry night effect," said James. He finished the look with Larger Than Life Eyeliner in Rue Bonaparte (on the inner water line) and Penny Lane Cream Blush on the lips and cheeks. He finished the lip with a layer of Pearl Beach Cream Eyeshadow- a lavender opalescent that "looks sweet on the lips" -  and Nana Lip Gloss - a purple. "We wanted a lavender, pink, purple lip that's subtle," said James.

Photo: Courtesy of Nars Cosmetics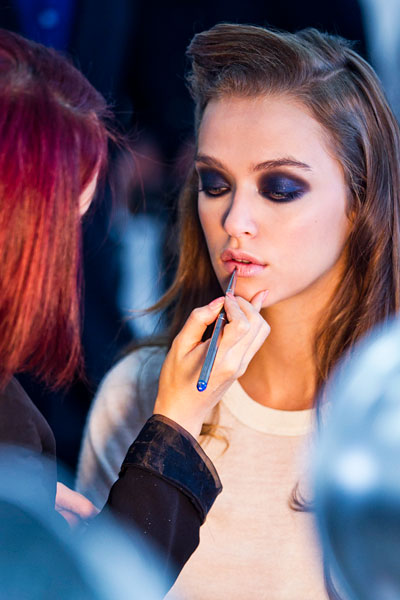 Photo: Mat Szwajkos for Beauty Blitz
Odile Gilbert for Kerastase decided on a "Sweet Sixteen" look for the hair. She created large waves with a volumized wave in the front, which was reminiscent of the curves in Van Gogh's painting. She used Kerastase Mousse Volumactive and secured the front wave with a comb on the side. With the hair away from the face, all eyes were on the makeup.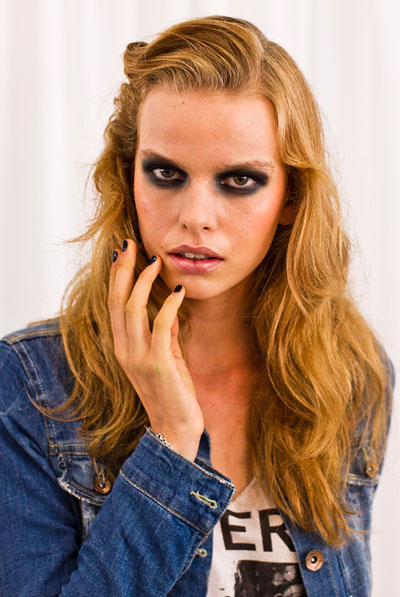 Photo: Mat Szwajkos for Beauty Blitz
The nail color was created by Deborah Lippmann using Lady Sings The Blues a midnight blue with small, medium and large particles of graphite glitter. To get an even bigger feeling of a starry night fantasy, Deborah added "a ton" of extra large pieces of the glitter particles. "I wanted it to flow and feel airy with a starry feeling," she said. "I had to amp it up for the [Rodarte] girls." No word yet on whether Deborah will release this custom color for the masses. To juxtapose the manicure, Deborah wanted a continuance of the leg with the pedicure. The toes were a modern, opaque beige named Fashion. "The opaque beige is the new nude," she added. "It is super modern and fun to do a dark, dark nail and then an opaque beige or pink on the toes."

Photo: Mat Szwajkos for Beauty Blitz
Keywords
Get the latest beauty news and inspiration!
Sign up for our newsletter to receive the latest from Beauty Blitz delivered straight to your inbox.