So, This Exists: A Selfie Stick for Applying Sunscreen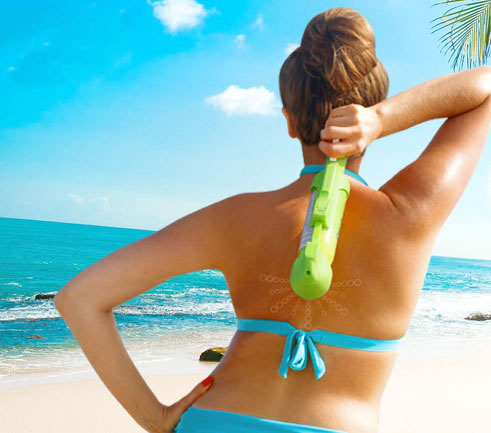 Depending on your degree of double-jointedness, it's more or less impossible to reliably apply sunscreen to your own back. So what do you do when you're rolling solo at the beach? Personally, I'd rather be stung by a school of jellyfish than ask a stranger to rub in my SPF, so I'd probably just put on a shirt or go home. But now there's a third option: a selfie-stick-meets-backscratcher contraption that lets you spray aerosol sunscreen on those hard to reach spots.
My Cabana Boy
(tagline: "Friends and family, optional") is a plastic holster that gives your can of spray sunscreen an extended reach, thanks to a handle and trigger mechanism. It fits most standard size spray cans, and comes in four snazzy colors. Alas, it won't bring you mai tais with umbrellas in them or fan you with a palm leaf like a real cabana boy would — but his services would also probably cost you a lot more than $9.99.
Keywords
Get the latest beauty news and inspiration!
Sign up for our newsletter to receive the latest from Beauty Blitz delivered straight to your inbox.