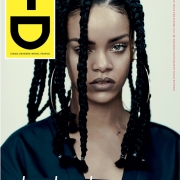 If there's anyone who could make us seriously consider bringing back dark lip liner, it's Rihanna. Whether it's the asymmetrical haircut that first made her a style icon, or the claw-like nails...
read more >>
  Lower lashes are having a major moment in W magazine's February 2015 issue. Stars like Julianne Moore, Emma Stone and Reese Witherspoon are just a few of the A-listers gracing the multiple...
read more >>
Did anyone else's jaw drop when they saw Britney Spears on the June cover of Shape Magazine? We almost had to take a second glance to make sure we weren't hallucinating. Sure, Britney has been...
read more >>
What We're Loving Now