From her eyes to her vintage sequined Jean Paul Gaultier gown to even her cleavage, Kim Kardashian glowed golden at the Grammys last night — even if her look was overshadowed by Kanye's stage rush...
read more >>
If you weren't able to join us for our post-Grammy's Twitter chat, shame shame shame! OK, fine, you have a life outside of talking to us via Tweet. No guilt trips. . .even though the rest of world...
read more >>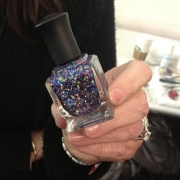 Backstage at Badgley Mischka, Deborah Lippmann treated us to some holographic sparkles by showing off Kelly Clarkson's custom nail polish shade. The minute we laid eyes on it our pupils turned into...
read more >>
What We're Loving Now