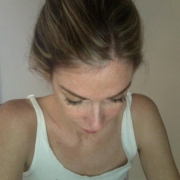 In The Lady Project series, we dispatch a decidedly low-maintenance reporter to get lacquered and buffed in the name of beauty. For this installment, contributor Jena Kingsley tests out lash...
read more >>
August 21, 2012 - 1:46pm
There is nothing that makes me feel prettier than a set of false eyelashes, but I wouldn't want to apply them on a daily basis. Instead, my latest find has me batting my lashes all day, every day....
read more >>
What We're Loving Now