Rainbow hair color started off as a micro-trend that we assumed would die down. But a year later, the multicolored look is still going strong: witness runway looks from Prada to Peter Som, numerous...
read more >>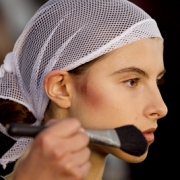 All Photos: Mat Szwajkos for Beauty Blitz. "I looked at the collection and there's no frou frou. It's very pared down, extremely graphic and it fells very pure," said lead hair stylist Eugene...
read more >>
Photo: Wireimage Peter Som was not afraid to use bold colors in his collection, so it left that hair and makeup excited to play with color, too. "In the collection there a lot of prints, so I wanted...
read more >>
What We're Loving Now