This Mask is Tea For Your Face – Literally!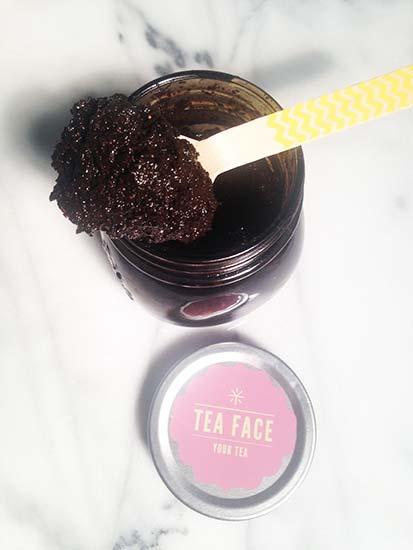 Tea detox, a.k.a. teatox, has become a popular form of cleansing your digestive system and weightloss. It's a nice alternative to juice cleanses incase you can't throw down another cayenne pepper concoction for the fifth day in a row. While there are a few brands from all over the world that offer teatox, Your Tea has taken their's to another level. Introducing, TeaFace, an exfoliating and revitalizing mask made with real tea granules. 
TeaFace is a simple combination of TinyTea tea granules, ylang ylang (for scent), cold-pressed coconut oil and high-grade healing essential oils like, rosehip, patchouli and jojoba. Everything is all natural and straight from the earth (just how TinyTea likes it). But unlike other masks, which you smear all over your face and let sit, TeaFace is meant to be worked into skin like a scrub first. After massaging it all over your face, let it sit for 10 minutes and just wash it off with a warm, wet towel. The results are practically instant. After I took it off, I notice my pores were tighter and my skin was super glowy. TeaFace also works to heal scars and even out skin tone. 
The only drawback of this mask is that it's not very attractive. It looks like really wet and slimy mud, but who cares? It's not like you're wearing it outside of your house anyway, right? What I do love about it though is that since the exfoliating beads are actual tea, it's completely safe for the environment, unlike the
harmful microbeads
in other exfoliating products. Get on board with TeaFace; your skin will thank you. 
Get the latest beauty news and inspiration!
Sign up for our newsletter to receive the latest from Beauty Blitz delivered straight to your inbox.