Add These Beauty Drops To Your Skincare or Drinks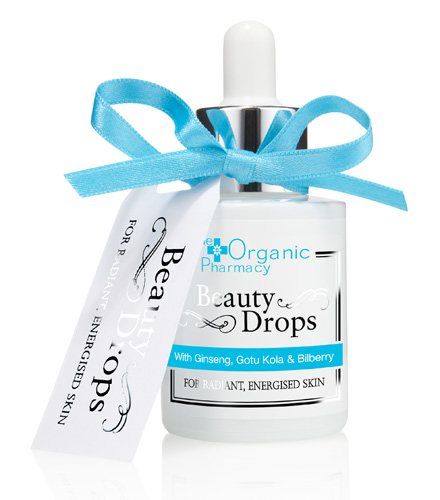 If Wonderland was
The Organic Pharmacy
store on Bleecker Street in NYC and Alice walked in, she'd probably go straight for the brand's new Beauty Drops. But this magic potion wouldn't make Alice grow. Instead, it would make her skin radiant and energized. This skincare product might as well have "Drink Me" written on it because that's what you do, you add a few drops to your drink, or simply your mouth, for a tasty, skin-beautifying treat. 
This skincare elixir is truly unique. Made with three powerful ingredients, these dual-usage drops act as an energy drink for your skin and body. Ginseng is known to improve stamina and promote healing, stress resistance and work efficiency. It also has anti-inflammatory and antioxidant properties. Gotu Kola helps increase blood supply to cells to aid in oxygenation. It works wonders on healing and reducing scars, too. Finally, bilberry helps stabilize cell membranes and improve microcirculation and healing. It's a skin rejuvenator that reduces redness and even aids in oxidative stress related to brain aging. When sipped, these drops boast skin hydration and an overall energy boost. Sp skip the RedBull and grab the Beauty Drops. 
Now, the thought of putting skincare in your mouth may not be very appealing. Let's face it; most edible products like collagen powders aren't exactly appetizing. But these have a pleasant berry taste that won't make you squirm. If that's not your thing, you can also add them to your favorite skincare product to promote antioxidant protection and energized skin. 
The Organic Pharmacy Beauty Drops are available at the brand's NYC store or online for $99. 
Keywords
Get the latest beauty news and inspiration!
Sign up for our newsletter to receive the latest from Beauty Blitz delivered straight to your inbox.