Toners: Do You Really Need Them? 3 Experts Weigh In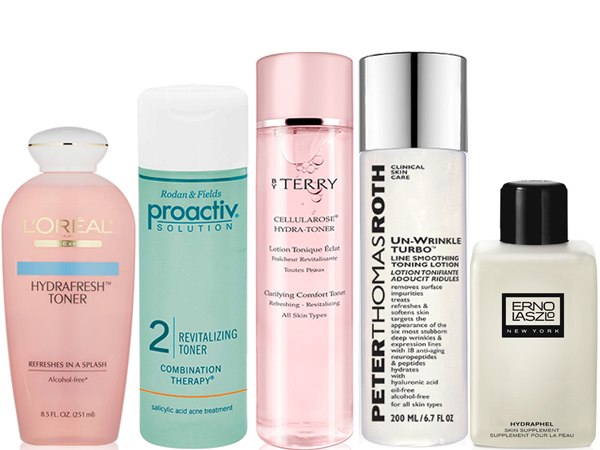 Unless you're really into the 10-step (and growing)
regimen of Korean women
, a toner is usually the first to get cut from the team. I get it. Great skincare is not cheap, so why buy a product that you don't absolutely need? That's why I reached out to three experts – Dr. Gervais Gerstner M.D., dermatologist and L'Oréal Paris Skin Care Expert; Dr. Katie Rodan M.D., Proactiv/Proactiv+ Co-Founder & Dermatologist; and Judit Galambossi, Erno Laszlo Lead Skin Therapist at The Institute – to get the truth about toners and find out once and for all if our skin really needs them. 
What is Toner?
Our phobia of toners is not without reason. Dr. Rodan explains, "[Toners] were originally created to remove the residue left behind by creamy, surfactant based cleansers and act as a skin astringent for 'tightening' pores." These early toners were extremely harsh on skin, drying it out to the point of no return, so it's no wonder the entire category has gotten a bad rap. But it's time we kick that mindset to the curb. "Today, toners offer a means to deliver beneficial ingredients, leaving the skin looking smoother and fresher," Dr. Rodan says. 
"Toners are a crucial step because they prepare the skin to absorb the benefits of the serums and moisturizers."
In a textbook skincare ritual, toner is the second step of the cleansing process and is to be applied with a cotton pad in the morning and at night. "Apart from balancing the skin's pH and removing the chlorine that can be found in water, toners can also help the penetration of ingredients from other skin care applications, control excess oil production and hydrate the skin," says Galambossi. With that said, using a toner before your favorite treatment can really up the ante on the benefits of that treatment. "Toners are a crucial step because they prepare the skin to absorb the benefits of the serums and moisturizers," Galambossi adds. 
Which Toner is Right for Your Skin?
All skin types and age groups can benefit from a toner, depending on its ingredients. But, according to Rodan and Galambossi, breakout- and acne-prone skin can really improve when toner is in the picture. "Alone, toners can't solve a problem, like, acne. But they are an important step in clearing breakouts, by preparing the skin for medicines, such as benzoyl peroxide or sulfur, to continue the acne healing process," says Rodan. "I personally recommend exfoliating toners containing glycolic acid and salicylic acid."
For normal to dry skin, Dr. Galambossi recommends hydrating and antioxidant-rich toners. "Every skin type can benefit from toners with antioxidants, such as vitamins A, C and E and panthenol to protect the skin and encourage tissue repair. If you have dry skin, look for humectants and ingredients to soothe and calm the skin." One thing is for sure: avoid toners with a high concentration of isopropyl alcohol. 
While both Rodan and Galambossi believe that toners are a great addition to your skincare regimen, Dr. Gerstner prefers to skip the step. "I don't really believe in toners," she says. "Using a toner will help to de-grease your skin, but it is not needed in your routine." 
While there are many types of skincare products in liquid form, don't confuse them with toner. They may look and feel similar, but they all serve a different purpose. For example, 'essence' is very popular in skincare lines originating in Asia. It has a watery texture, but is slightly thicker and functions more like a serum than a traditional toner. Essences promote various skin benefits like brightening, repairing and pore tightening. Two great options are
SK-II Facial Treatment Essence
($165) and
Shiseido Eudermine Revitalizing Essence
($56). 
Another example is an astringent, which is more like what we typically think of as toner, except it's alcohol-based, and therefore can really dry out the skin. But not all astringents are harsh. Witch Hazel has been known to provide a ton of skin benefits without stressing it out.
Dickinson's Original Witch Hazel
is a great, non-drying or irritating formula that removes excess oil and impurities without stripping the skin. It even works wonders on bug bites! 
Top Toner Picks: 
To maintain your summer glow, try this radiance-enhancing toner blended with brightening rose native cells and an organic hydrating complex. Watch your pores shrink and a glowing complexion appear with every application. 
You know those wrinkles that just won't budge no matter how many anti-aging products you try? Give this vitamin-rich toner a try and see deep wrinkles and expression lines diminish. It's made to reduce the the six most stubborn signs of aging while refreshing skin. 
For breakouts, look no further than Proactiv. This toner opens up pores to clear out impurities and treat skin to five-percent glycolic acid and a soothing blend of chamomile and aloe that wipes away dead skin. 
This is a great option for dry skin because it's made with allantoin, which attracts and binds moisture to the skin.
This alcohol-free formula is packed with vitamin B5 to fight moisture loss and revitalize tired skin. At just under $6, it's a great, affordable option for those who want to try a toner for the first time.
MORE: Finisher is the New Korean Skincare Step You Didn't Know You Needed
Keywords
Get the latest beauty news and inspiration!
Sign up for our newsletter to receive the latest from Beauty Blitz delivered straight to your inbox.