Top Notch Tan: Infinity Sun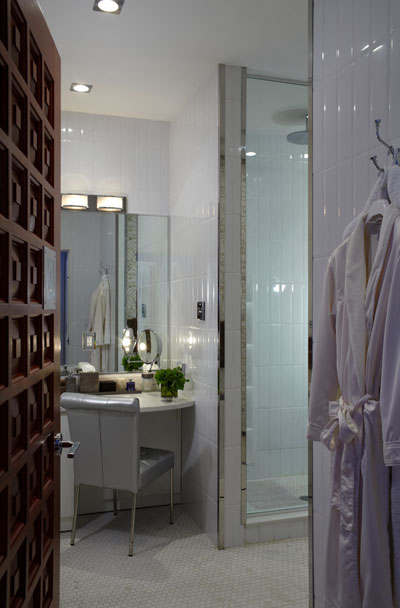 When done by a pro, airbrush tanning is the best way to get a faux glow sans sun damage or orange streaks. But, finding the right salon with the right system can be tough. Will the color last? Will their aesthetician do a decent job?
I recently stopped by the chic Chatwal Spa by Kashwere at the Chatwal Hotel (130 West 44th Street, NYC) for an Infinity Sun airbrush tan. During my commute I was worried that I might end up looking like a member of the Jersey Shore cast, or that I wouldn't be able to stand the sticky feeling one usually gets after an airbrush tan for the rest of the day (I had to be at the Beauty Blitz office right after my appointment). As soon as I walked in, the relaxing atmosphere of the spa put my worries at ease. I was taken to my own personal bathroom/changing room where I slipped into a soft Kashwere bathrobe and some skimpy disposable undergarments (because there's no need for extreme tan lines).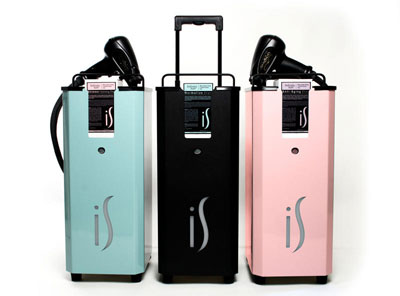 Once I met Romanka, the aesthetician, I was taken to the airbrush room where I immediately stripped down to almost nothing. Romanka and I debated on the perfect color for my milky-white skin tone and settled on the lightest shade with a built-in immediate bronzer. She whipped out her 'gun' (which looks more like a blow-dryer attached to a vacuum cleaner) and shot me with the tanning mist from head to toe. The process took about 15 minutes to complete and an additional ten minutes to dry - the longest I've gone in my life being practically naked in front of a stranger.
Infinity Sun is a unique multi-treatment airbrush system that offers a variety of different shades. They come in a clear or bronzer solution. You can even add an anti-aging elixir, made with antioxidants and pure botanicals, and/or shimmer elixir to customize your treatment for the ultimate one-of-a-kind, sexy tan.
I could not have been happier with the results! The bronze tint gave my skin a subtle glow for the rest of the day, but it didn't look like I had just gotten a faux tan. Plus, the solution dried so well that it didn't feel like I had anything on my skin at all. Romanka recommended waiting until the next morning to shower, so I was especially glad that I didn't look or feel dirty. All I did was strut my stuff around NYC with a stunning golden tan resembling Gisele's Brazilian glow. And no one had to know that it was all fake.
To schedule your Infinity Sun appointment ($80 for 30 minutes) call the Chatwal Spa by Kashwere at 212.764.5900.
Keywords
Get the latest beauty news and inspiration!
Sign up for our newsletter to receive the latest from Beauty Blitz delivered straight to your inbox.