Transition from Sandals to Boots
While fall weather has been on and off lately, we only have less than a month left before Daylight Savings Time ends. That means it's time to start transitioning from sandals to boots. We spoke with Meg Ross, the manager of Eve Salon for her tips on caring for our feet.
What types of things do pedicurists see during the summer?
The technicians all agree that they see a lot of blisters on the top and bottom of feet from sandals and definitely a lot of chips on the toenail polish because the feet aren't protected. Your feet callus differently with the different shoes you wear, so it's a good idea to make the transition into the boot season with a good spa pedicure.
What types of things do sandals do to the feet?
Rub between the toes and on the top of the feet.  Also sandals offer very little support for your arch so your feet get tired very easy in the summer. A good massage is beneficial to stretching out the feet again.
What are the best treatments to deal with these issues?
Definitely a good scrub to exfoliate the dead skin off the feet and legs and increase circulation and a callous remover treatment to help eliminate the summer calluses and prep the feet for winter.  Right now we are really loving the Dirt body scrub that we use with our Moroccan pedicure.  Using a hot booty while the callous remover sits on the skin increases its benefits and helps make the feet feel baby soft.
If you're not in the New York area to pop in for a Moroccan pedicure at Eve Salon, we recommend these products to smooth out all the rough spots before winter hits.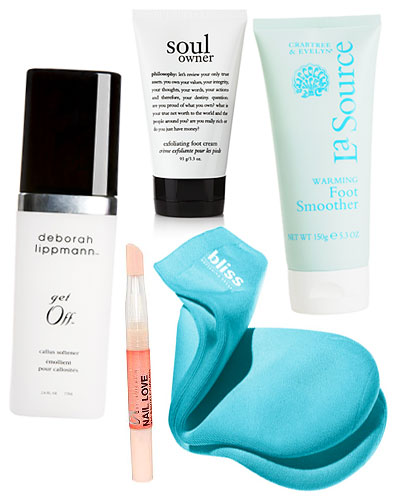 Deborah Lippmann Get Off Callus Softener ($38) - This spray-on treatment preps all those rough spots for an even better exfoliating experience.
Crabtree & Evelyn La Source Warming Foot Smoother ($20) - This exfolitating treatment smooths dry, rough patches, plus it heats up as you use it to relax tired muscles.
Philosophy Soul Owner Exfoliating Foot Cream ($14) - Not just your ordinary foot cream, this tube is formulated with salicylic and glycolic acids to soften up and hydrate your feet.
Bliss Softening Socks ($48) - For extra hydration and softness (or a little indulgence!), slip on these gel socks infused with olive oil, grapeseed oil and vitamin E. Just 20 minutes and your tootsies will be transformed.
It Cosmetics Nail Love Pen ($12) - This convenient pen allows you to hydrate your cuticles with vitamins A, C E and B5. Plus, the rubber tip helps push back cuticles, so your toes look healthy even when it's not pedicure season.
Get the latest beauty news and inspiration!
Sign up for our newsletter to receive the latest from Beauty Blitz delivered straight to your inbox.