Trekking the Tundra with Rag & Bone - NYFW Fall 2011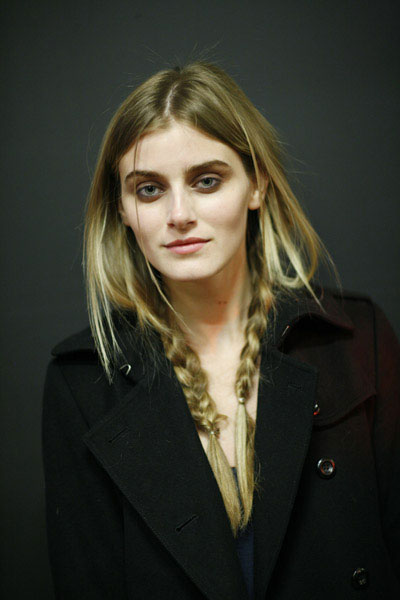 With the temperature barely breaking 30 degrees so far this Fashion Week, Rag & Bone's "urban Eskimo" inspiration couldn't have felt more appropriate.
Makeup: Gucci Westman for Revlon
Revlon's Global Artisic Director Gucci Westman was of course on hand to translate the designers' vision into a makeup look (David Neville, half of Rag & Bones's design duo, is her husband) - here, a smoky eye with the "windblown" skin of a nomadic traveler. "I did this band of blush so it looks more ruddy," she explained to the delight of at least one half-frozen beauty editor (ahem). And trust me, chapped cheeks never looked so good as they did paired with the kohl-rimmed eyes and berry-brown smoke, which Gucci created by layering matte brown powder eyeshadow over a base of lipstick on models' lids.  The effect? "I get that texture and the sheen from this burgundy color to come through," Gucci explained, "so it's not just a straight brown, so it's more textural." The makeup artist reiterated she's "big on multiuse" - her Revlon Lip Palette in Bordeaux in the Snow is out fall 2011.
Hair: Guido for Redken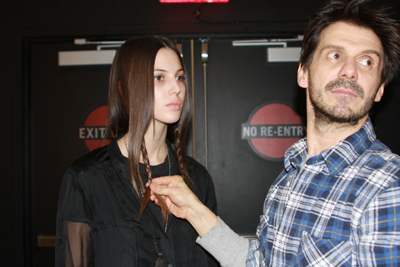 Guido makes Ruby's "wrong" braids look right. (Photo: Beauty Blitz)
Rag & Bone's show was the first of the season for Redken Creative Consultant Guido, who said backstage he was easing into Fashion Week with this relaxed braided style. "I want it to feel like the girl's done it herself," he said, "very feminine, very soft." Each girl wore three "not too symmetrical" plaits with loose pieces of hair all around. Note to at-home braiders: Guido says sometimes "braids can look kind of wrong" if they're woven too tightly. He pulled over model Ruby Aldridge to demonstrate: "I'll pull out the braid a little bit so it's really soft," he explained. While the look was "not product-y," Guido said, he was using Redken Thickening Lotion and hair extensions to "bulk it up a bit."
Nails: Jin Soon Choi for Revlon
News of gray polish's death has been exaggerated. We're still seeing the shade at shows like this one, where nail artist Jin Soon Choi created an edgier slate manicure (greige this ain't) using Revlon Top Speed Nail Enamel in Hazy and Nail Enamel in Steel-Her Heart. While for now we're looking toward spring brights, we're betting this shade will hit the spot come fall's gray days.
Keywords
Get the latest beauty news and inspiration!
Sign up for our newsletter to receive the latest from Beauty Blitz delivered straight to your inbox.