This New Makeup Brand Takes Portability to a New Level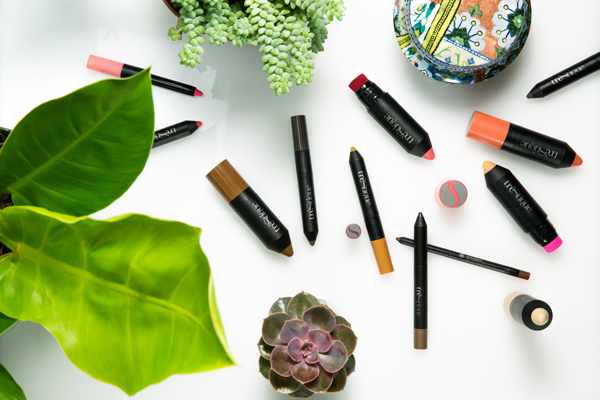 If fitting your makeup and tools in your weekender or already over-stuffed luggage seems like a never-ending battle, this new makeup brand is for you. Because traveling with your favorite eyeshadows, bronzers and lipsticks also requires bringing an extra bag of brushes and tools to successfully apply your makeup, right? If you're anything like me, you end up with overweight bags, which often leads to baggage fees. TréStique is a genius new makeup brand that offers high quality eye, face and lip products with – get this – built-in, interchangeable tools. 
TréStique was founded by Jennifer Kapahi and Jack Bensason, two beauty industry veterans with a mission to "simplify and empower your life with the right products." The line consists of three eye products, four face products and one lip product all in stick-form with long-lasting, cream-gel formulas and the tool required to apply it on the opposite end. You can switch between balms, smudges, brushes and even sponges. Genius, no? Plus, everything has a custom magnetic sealed cap so you'll never open your makeup bag and discover a mess again. 
It's hard to pick a favorite product from the line; everything is so, so good. But if I really had to choose my top three must-haves: 
1. Tint, Moisturize & Blend Face Stick
– This rounded foundation stick glides on like butter and offers up full coverage in one swipe. The best part is that, thanks to the built-in blender sponge, you won't have to get your fingers dirty to apply it on the go. (Available in six shades) 
2. TréSwitch Tools Blotting Sheet Cartridge
– If you get the Face Stick, stock up on the brand's blotting sheet cartridge. This first-of-its-kind innovation locks into your face pencils for the ultimate travel companion. 
3. Matte Color & Shiny Balm Lip Crayon – T
his lippie offers two different formulas in one. You get a matte lip crayon on one end, and a BB lip balm on the other. The shades stay the same, but you can decide whether your want a glossy finish or not. (Available in six pretty shades.)
Oh, and did I mention that everything comes in adorable, crayon-like packaging and costs under $35? TréStique is truly a force to be reckoned with. 
Get the latest beauty news and inspiration!
Sign up for our newsletter to receive the latest from Beauty Blitz delivered straight to your inbox.