#TrueStory: This Japanese Restorative Hair Treatment Brought My Strands Back to Life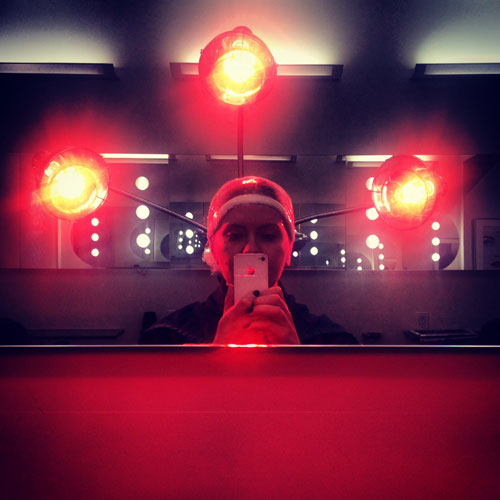 Like I mentioned before, I don't really do much to treat my hair. Shampoo, conditioner, and a pop of Biotin a day is about as far as I go when it comes to hair care. With that said, I actually treated my hair to something SO GOOD that I had to share it with you all. I paid a visit to Sacha & Olivier Salon for a Japanese restorative hair treatment called Noiraudepro. If you have any sort of damaged hair, you're going to want to read on. And if you think you have perfectly healthy hair, read on anyway because this will change your mind.
Noiraudepro is an in-salon treatment for all hair types (color-treated, fine, curly, bleached, processed, you name it). It takes about a half hour to apply and set (you can seriously get it done on your lunch break). It's a series of keratins that repair damaged strands, improve elasticity and strengthen the hair. The hair stylist examines your hair to figure out how strong of a keratin treatment you will get. At Sacha Olivier, they actually layered a low, middle, and high keratin on my hair since its obvious that it really takes a beating. The keratin is spritzed onto sections of damp hair followed by a spritz of CMC (a binding agent that binds the keratin and locks in moisture), covered with plastic wrap, set under heat lamps for 15 minutes and rinsed out. That's really all it takes to get the softest, healthiest hair you can imagine.
After a fabulous blow dry, I couldn't believe how shiny, bouncy and silky soft my hair was. I never thought my strands would feel like that. I haven't stopped touching it since I walked out of Sacha & Olivier. My hair has officially come back from the dead. Noiraudepro went beyond my expectations. I'm addicted.
If you want to bring your dull hair back to life, I highly recommend getting a Noiraudepro treatment. And if you're in the NYC area, definitely make your way to Sacha & Olivier salon (6 West 18th St., New York, NY 10011). At Sacha & Olivier, the monthly treatment is only $75! 
Keywords
Get the latest beauty news and inspiration!
Sign up for our newsletter to receive the latest from Beauty Blitz delivered straight to your inbox.