New Beauty Trend: Shattered Glass and Nails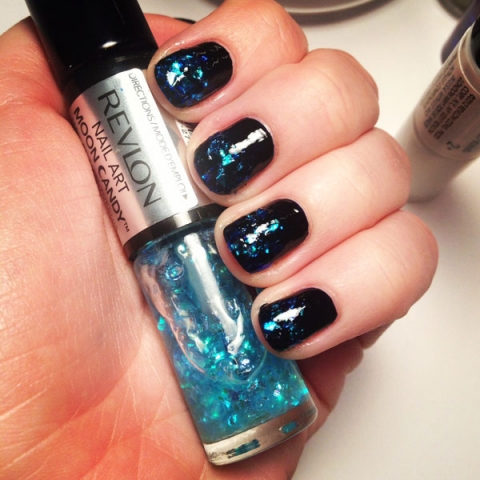 "I got this sweet manicure at the Museum of Modern Art last night," said no one ever. Until now. Last night, I was invited by Revlon and nail extraordinaire Jin Soon Choi to get my nails decked out for the holiday weekend. They turned a section of the MoMa into a full-blown nail salon.  Nail art was the theme, and Revlon's latest nail polishes, Nail Art Expressionist, Nail Art Moon Candy, and Nail Art Neon, were in the spotlight. With so many polishes to choose from, the nail art possibilities were endless. I was lucky enough to have Jin Soon create something special for me. The result was this otherworldly, shattered-glass mani. Here's how to get the look.
What You Need: Revlon Nail Art Moon Candy in Galactic and Orbit. That's it!
Start by painting your nails with two coats of the dark blue polish from Galactic. Once the polish is semi-dry, dab the glitter section of Orbit on the tips of your nails. Bring the glitter down half way. Dabbing the polish on deposits more speckles on the nail. Don't worry if it becomes lumpy, the topcoat will smooth everything out. Once you have a visible amount of the Orbit glitter, add a coat of glitter from Galactic. Wait a few minutes for everything to dry before applying a topcoat. 
Want to try the look? Don't forget to Tweet us a pic! 
Keywords
Get the latest beauty news and inspiration!
Sign up for our newsletter to receive the latest from Beauty Blitz delivered straight to your inbox.