Vanessa Lachey Talks Thinning Hair, Beauty Resolutions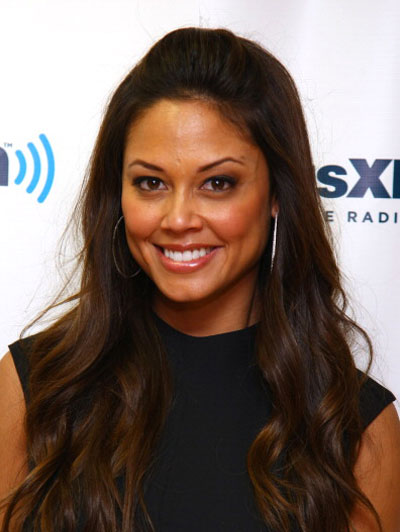 We never would have pegged Vanessa Lachey (née Minnillo) as someone with thinning hair. So it was a mystery to us why Nioxin had tapped the TV host as spokesperson for their just-launched thickening hair treatment, Diamax - until we sat down with her to get the scoop. Read on!
On discovering Diamax:
"When I moved to LA, I started noticing a change in my hair, and it was happening drastically. I noticed that it was falling out, thinning and breaking. Then, in May of 2010, I auditioned for [ABC's hit show] Wipe Out. When I got the job, they told me I needed to do something about my hair. They showed me the tape and because I was outside filming on a ranch, where the sun is out, you can literally see my scalp. It was really pronounced on a certain area of my head and it looked like a huge bald spot. I was just like, "Man, I'm 30 now, and I'm losing my hair." You just don't think it's going to happen. You don't realize that you're aging and Mother Nature is taking its course, along with products and processing."
"Coincidentally, a month later, Nioxin introduced Diamax to my hairstylist Betsey Reyes [Betsy is Celebrity Hairstylist Ambassador for the brand]. She used it for all four days of my wedding and I immediately noticed the difference. My hair felt healthy and normal again."

On the product's HTX Technology:
"Nioxin worked on this for 10 years! It helps increase the diameter of each hair strand. Like putting rice in water. You can do whatever you want during your daily routine because you'll have thicker hair to work with. I give it to everyone. There is not one person I wouldn't recommend it to because it's not only for those with thinning hair. It's all about creating a healthy foundation and scalp which leads to healthy hair. I use it after I wash my hair with Nioxin Shampoo and Conditioner."

On her biggest hair regret:
"I went through this phase where I wanted my hair to be lighter. Betsey wouldn't do it because she knew it would damage my hair. So I went to someone else and I shouldn't have. She said, 'You cheat on me and bad things happen.' And she was right! They used bleach and it literally broke my hair off. I had shorter pieces in the back and it killed me. It took a while to get it back."
On how she likes to wear her hair off-camera:
"I wear my hair all different ways - I'm such a chameleon. I do fishtail braids, faux-hawks, baby dolls, ponytails, buns, corn row braids; but I love getting a good, clean blowout. I feel like if I don't have any makeup on and I'm wearing sneakers, I still feel really beautiful with a good blowout."

On her 2012 beauty resolution:
"To start with a healthy inside! I've cut back on coffee and I'm trying to eat better. I think about every single thing I put into my body. I'm also trying to eat organic - there is a reason it's out there! If I'm healthy on the inside, it will show in my skin, hair, and nails. But it's been hard! My husband and I also talked about doing a juice cleanse to start off the new year, but there are so many that we can't figure out which one to do."
On her travel essentials:
"I'm obsessed with Palmer's Cocoa Butter - it's the best! I love everything about it - the feel, smell, and how my skin looks after applying. I also started putting Diamax in my beauty kit that I take with me everywhere. The cap makes it so travel-friendly. I'm also a grown woman with a blanket. I have a blanket from Brookstone that I can't travel without. Oh, and lip stuff. I use Aquaphor. Gwyneth [Paltrow] recommended it on Goop. She said she uses it on Apple. So if it's good enough for Apple Paltrow, it's good enough for me!"
Nioxin Diamax will be available at salons nationwide this month. For locations, visit Nioxin.com.
Keywords
Get the latest beauty news and inspiration!
Sign up for our newsletter to receive the latest from Beauty Blitz delivered straight to your inbox.