3 Low-Waste Ways to Update Your Beauty Routine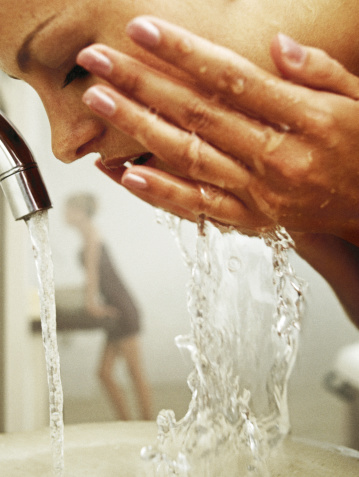 Photo: Getty Images
Let's face it: Our beauty routines create a ton of waste, whether it's the packaging that houses our mascara or the water we wash down the drain while we wait for our conditioner to soak in. But small choices can have a real impact on the environment, and what better time to start new, more sustainable habits than Earth Month? This April, make an effort to change the way you consume. Here are three places to start.
Use Less Water
Just this week, California Governor Jerry Brown issued mandatory water restrictions for residents in response to the state's historic drought. But no matter where you live, water consumption is a big deal. According to the Environmental Protection Agency,
the average American household uses more than 300 gallons of water per day at home
— and over 30 percent of that comes from the shower and tap. Your hot water heater is also a big energy hog, which means more fossil fuels are burned for every extra minute you spend in a steamy shower.
Seeing as the average shower uses 2.5 gallons of water per minute, making a couple minor tweaks to your routine can have a big effect. Turn off the tap while you shave or shampoo, and turn it back on to rinse. Or install a
water-saving showerhead
that can save up to 2,900 gallons per year. 
Ditch the Microbeads
For years, beauty companies have been adding tiny plastic particles — you know them as "microbeads" — to face washes and scrubs as an exfoliating agent. The non-biodegradable beads get washed down the drain and eventually make their way into waterways, where they contribute to pollution and never dissolve. Beads have been found in the stomachs of fish and other marine life, which is bad news for the food chain.
Companies like P&G and Johnson & Johnson have begun to phase out microbeads in their products, and states like Illinois and New Jersey have outright banned the beads (New York, California and Colorado are considering similar laws). But many products on beauty aisle shelves still contain microbeads — and if you care about clean water, you'll stop using them. Make the process easier by downloading the
Beat the Microbead app
, which lets you scan a product with your phone and then tells you whether or not it contains microbeads.
Recycle Your Packaging
According to the EPA, various types of packaging make up a quarter of all landfill waste — and that includes your beauty products. Many cosmetics containers can't be recycled along with your milk cartons and old magazines. But a handful of beauty companies offer their own recycling programs to ensure your empties don't end up in the trash.
Since 2009, Kiehl's has recycled over 2,500,000 bottles through its Recycle and Be Rewarded Program. Each empty you bring back to a Kiehl's store earns you a stamp; at 10 stamps, you score a free travel-sized product. The brand also dedicates its annual Earth Month efforts to recycling, and has been working with nonprofit Recycle Across America since 2012. (This year, 100 percent of the net profits, up to $50,000, from the
Limited Edition Creamy Eye Treatment with Avocado
go to help K-12 schools make recycling easier.) 
Other brands are on board with the issue, too. MAC Cosmetics'
Back to MAC program
will gift you a free lipstick when you return six empty product containers to a counter or via maccosmetics.com.
Origins
also takes back empties to be recycled at its retail stores.
Think about repurposing your old containers, too. A candle canister or empty perfume bottle makes a Pinterest-worthy vase, while a loose powder pot can double as a travel-sized container for your eye cream. And you'll have made the planet just a bit more beautiful in the process.
Keywords
Get the latest beauty news and inspiration!
Sign up for our newsletter to receive the latest from Beauty Blitz delivered straight to your inbox.