We Put Rita Hazan's New Pop Color Sprays to the Test
A pixie cut doesn't really give you much leeway when you want to switch things up. So I turn to temporary hair colors to satisfy my craving for something new. I've tried it all - Manic Panic in lilac and baby pink and hair chalk in pink, blue and orange. Both did the job, but weren't really convenient. I had to mix Manic Panic with conditioner and apply it in the shower. Too cumbersome and time-consuming. Hair chalk gave me a quick change, but didn't really wash out of my platinum hair easily. So when Rita Hazan launched these Color Pop Sprays, I had to try them. After all, Rita is the queen of hair color.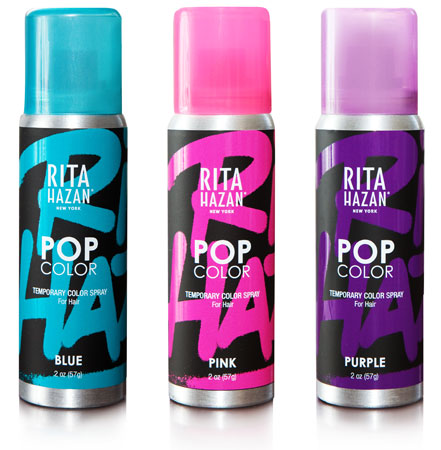 Pop Color comes in three shades: pink, blue, and purple. They were inspired by the nationwide trend that started with Rita's client, Katy Perry. The temporary color sprays come in an aerosol can, much like hairspray. But they're much higher quality than those temporary color sprays you find at costume stores. These can be eaily sprayed onto dry, styled hair for a one-night-only look. 
I decided to try all three shades on my very blonde hair. It was so easy. To avoid getting color on my bathroom walls, I stood in the shower. The rest is pretty simple. Just take a piece of hair and spray from at least 12 inches away. The color goes on immediately, but it's a bit wet at first. It feels like hairspray, but dries matte so it's not sticky and hair can be easily brushed. Once dry, the colors tone down to a pretty pastel shade. Check out my new color streaks below!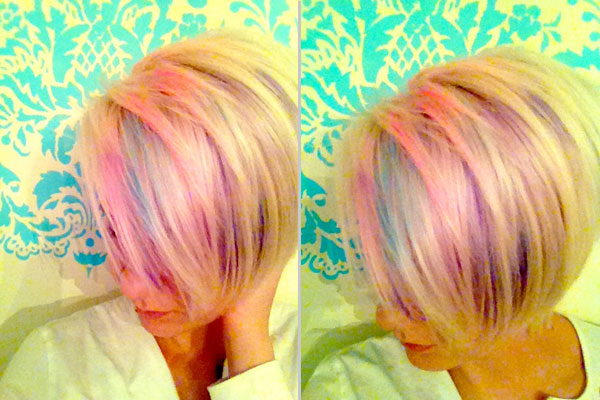 The real test: Do these wash out as easily as they go on? With my platinum hair, most temporary colors take about two to three washes to fully come out, but Rita Hazan Pop Color sprays washed out immediately! If you want something truly temporary, Rita Hazan Pop Color is your new best friend. Plus, at just $18, you can buy all three colors for less than a professional coloring. 
Rita Hazan Pop Color is available at Rita Hazan Salon and RitaHazan.com. 
Keywords
Get the latest beauty news and inspiration!
Sign up for our newsletter to receive the latest from Beauty Blitz delivered straight to your inbox.