Wet and Gorgeous at Rebecca Taylor - Spring 2012 NYFW
If you wore makeup to the beach, went in the water and got out, you could almost (!) look like the models backstage at Rebecca Taylor. The hair was slicked back and wet looking, while the makeup was all about the creaminess of, well, creams - no powder.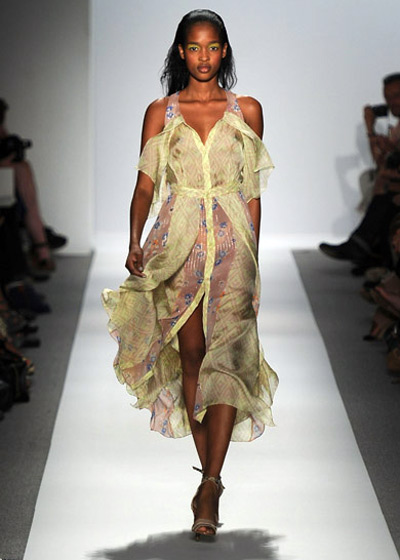 "This season Rebecca wanted something very pure and kind of fresh, as far as skin, and almost a little raw," said makeup artist Sil Bruinsma for MAC. "The palette of the collection has these types of watery colors in them - it all feels painted - so in order for it stay transparent and fluid we used cream shadows."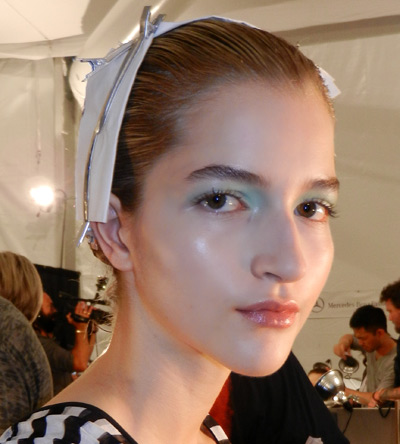 He used a touch of foundation where necessary and added plenty of highlight on the tops of the cheekbones, right under the eye. He blended cream blush on the cheeks and used grey, teal, seafoam and yellow cream eyeshadows based on what the girls were wearing.
Dia Michishita for Cutler for Redken created the water-like hair. "It's a bit 90's inspired," said hair stylist Emma Heser. "A little dirty, slicked back in the front, almost like she went swimming in the ocean and put a bun in her hair and came out and it's kind of dried off the face and naturally wavy in the back."
The models' hair was completely wet before it was blown back and sprayed with a strong hold hairspray to keep the wet look and to hold it off the face. The wet hair in the back was tied in a bun to create that natural wave.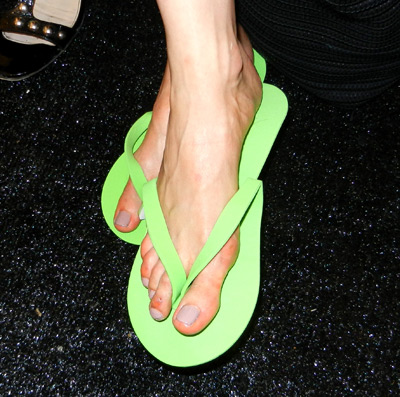 Rebecca chose OPI Stranger Tides, a sea foam grean, for the fingers, while the toes were painted with OPI Tickle My Francy, a nude polish.
Keywords
Get the latest beauty news and inspiration!
Sign up for our newsletter to receive the latest from Beauty Blitz delivered straight to your inbox.