What's the Deal with Black Dip-Dyed Fingers?
Thom Browne Fall 2014
Lorde's
black dip-dyed fingers at the Grammys may have been shocking to some, but in certain circles they're old news and definitely not the last we've seen of the "trend." Backstage at Thom Browne's show, Julie Kandalec applied dark charcoal water-based acrylic paint to the models' fingertips to bring the designer's "wicked nuns" theme to life. The reason? Kandelac said Browne wanted the models' fingers to look like they were dipped in ink. It's unclear whether Lorde's Grammy performance was an inspiration, but the singer isn't the only person who could have played muse to Browne's show. 
Here's a brief history of this weird look.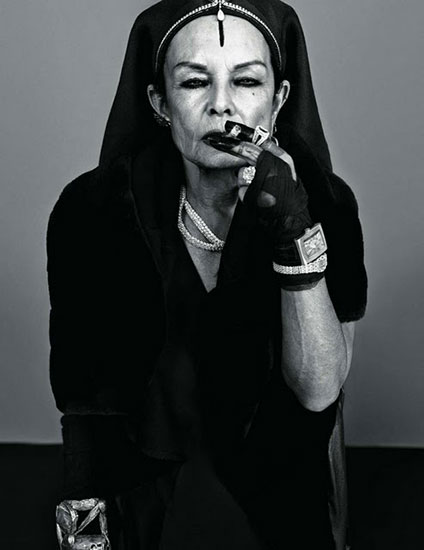 Photo: Oakazine
Somewhere designer Rick Owens' wife and muse, artist Michele Lamy, is rolling her eyes and saying, "Been there done that." Lamy is known for her unique style. Her teeth are plated in gold, she draws a vertical line down her forehead (to keep her grounded) and she applies Japanese henna (a vegetable dye meant to cover grey hair) on her fingertips. Although Lamy hasn't given a reason for why she dyes her fingertips (other than the fact that she likes the look), as one of the first people to wear this look, Lamy could very well have inspired Lorde and Thom Browne.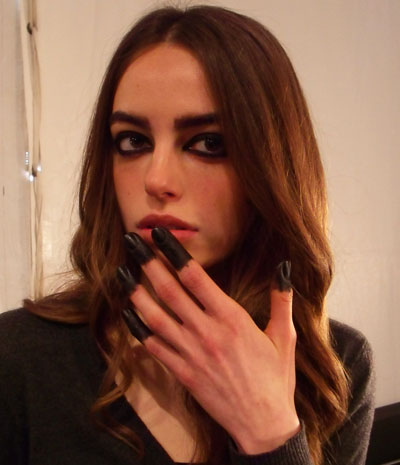 But let's not forget the first time dip dyed fingers were seen on the runway. Sorry Thom, but Mara Hoffman beat you to it. For her show, the "Middle Eastern desert woman" look was complete with ink-stained fingers. Makeup artist Lottie for Make Up For Ever used body paint to achieve the look.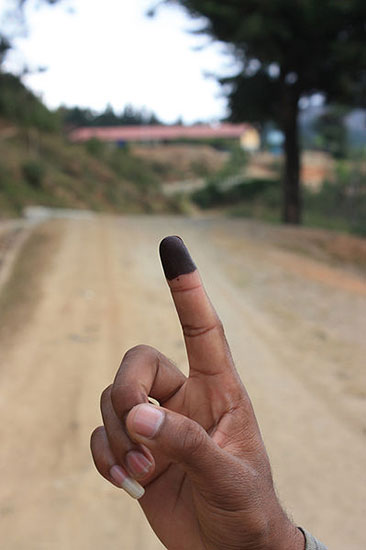 Election ink on a voter in East Timor via Wikipedia.
While researching the meaning behind these dipped fingers, we came across a voting method known as election ink. Some countries rely on the staining of a voters forefinger to ensure the person does not commit electoral fraud by voting twice. Companies like Mysore Paints and Varnish Limited in India actually manufacture these types of inks for this sole purpose. 
Would you ever dare to try this look? Perhaps on Halloween? 
Keywords
Get the latest beauty news and inspiration!
Sign up for our newsletter to receive the latest from Beauty Blitz delivered straight to your inbox.