Which Hair Product to Use When: A Guide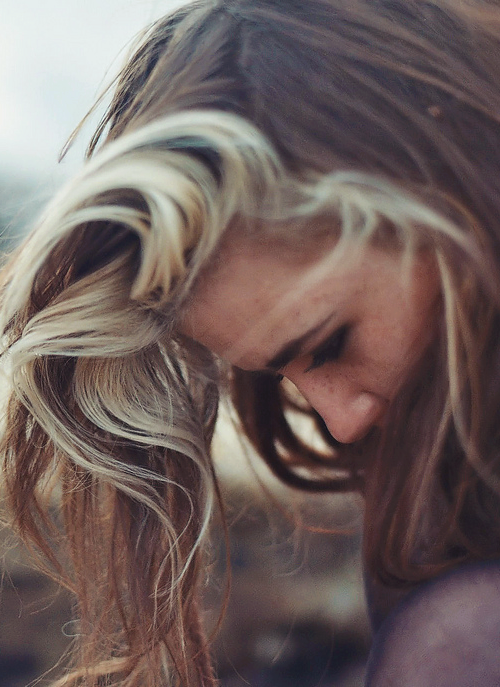 Lately we've noticed hair product names getting more opaque — what exactly is a CC cream supposed to do for strands, anyway? To help you choose the mousse, serum or spray that will make your hair do your bidding, we've put together this handy guide to which hair products to use when. 
Mousse
What it does: Mousse was the official hair product of the '80s, but that doesn't mean it has to make you look like a Poison groupie. This aerosol foam adds body and fullness to hair and helps a blowout keep its shape for longer. (If your artfully waved ends tend to fall flat after a few hours, mousse will help.) Some mousses are moisturizing and leave hair silky. Others are meant to add texture; use these sparingly to avoid "crunchy" locks.
How to use it: Rake a golf ball sized dollop through damp hair from roots to ends before blow drying.
Best for: Any hair type, but especially fine strands that lack body.
Hairspray
What it does: Hairspray uses polymers to create an invisible "net" that holds hair in place. Aerosol cans give a finer, more dispersed spray than pump bottles, but both versions work the same way. Many hairsprays also include reflective particles to enhance shine. 
How to use it: Mist "finishing" hairspray over dry hair as the final step in your routine. "Working" hairsprays have a more flexible hold, which means you can use them to give hair grip and control before styling or brushing.
Best for: All hair types; hair prone to flyaways.
Dry Shampoo
What it does: Dry shampoo soaks up oil and gives hair a dry, fluffy texture (think cotton candy). Since the product gives hair grip, it's ideal for prepping strands before an updo or braid. A few spritzes of dry shampoo can revive dirty hair, but you can also use it on clean hair to create matte texture or as a preventative measure to extend a blowout.
How to use it: Hold the can a few inches away from your head and blast the roots with quick, short sprays. Some dry shampoos can leave a whitish cast, so spritz the undersides of your roots, not the hair front and center. Comb through with your fingers or a brush to disperse the product.
Best for: Second day hair, greasy roots, blowout bar addicts. 
Styling Cream
What it does: Leave-in conditioners, beauty balms (BB or CC), curl creams, lotions and milk or "soufflé" products all fall under the category of styling creams. These moisturizing balms leave hair soft and frizz-free and give a little bit of hold and control. 
How to use it: Comb styling cream through wet hair — like with conditioner, you'll want to concentrate the product on the ends and avoid the roots. Then blow dry or let your hair air dry. You can also use some styling creams to polish the ends of your hair after blowing it out, or to touch up frizzy sections later in the day.
Best for: Dry hair; curls and waves.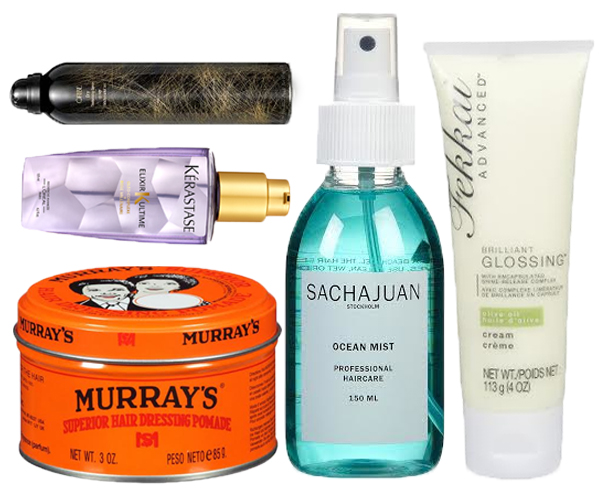 Pomade & Wax
What it does: Pomades and waxes — basically any semi-solid product you'll find in a screw top jar — add piece-y texture and control to hair. You know that cool, spiky pixie cut you've been pinning to your "Short Hair Don't Care" board? That's pomade in action.
How to use it: Dip a finger or two into the product and rub it between your palms to warm it up. Use your hands to sculpt hair to your heart's content.
Best for: Short haircuts. If you have long to medium length hair, you can use a bit of pomade to create rock 'n roll texture on the ends; avoid using it anywhere near the roots.
Heat Protective Spray
What it does: This lightweight spray creates a barrier between the surface of your hair and that 400-degree flat iron. It helps smooth and control flyaways while enhancing shine. 
How to use it: Spritz a section of hair with protective spray before curling or straightening with an iron, or spray over your entire head before a blowout. 
Best for: People who don't like the feeling of hair products, but want to avoid frying their hair.
Hair Oil
What it does: Once upon a time, the idea of adding oil to your hair was crazy talk. Now we've finally recognized that oil can make parched strands look shiny and alive. 
How to use it: Rub a few drops of oil between your palms and smooth it over wet or dry hair, concentrating on the ends. 
Best for: Coarse, dry, damaged or frizz-prone hair.
Serum
What it does: More viscous than oil and often combined with silicones, hair serum is the ultimate frizz fighter.
How to use it: Comb a dime-sized amount through damp hair before blow drying. You can also use a tiny bit of serum on your fingertips to seal your ends after a blowout.
Best for: Frizz-prone hair. The coarser your hair, the thicker a serum you'll want. (Fine hair types should stick to lighter formulas.)
Gel
What it does: You know all those "wet-look" hairstyles we've been seeing on the runway? Gel is the secret. Use it to pull back hair into a slick ponytail, to define curls, or anytime you want a shiny, polished look that's indestructible.
How to use it: For a sleek pony, use gel liberally at the crown when hair is damp, and comb it back into a ponytail. For curls, finger comb gel through wet hair and let air dry.
Best for: Statement looks or super curly 'dos.
Sea Spray
What it does: Want mermaid hair? This salt-infused spritz is your ticket. Sea sprays give hair a beachy texture like you'd get after taking a dip in the ocean.
How to use it: Mist over dry hair and scrunch strands with your fingers. Instant texture! Sea sprays are also the perfect prep for a messy braid.
Best for: Surfer girls; those who consider Gisele a spirit animal. 
Keywords
Get the latest beauty news and inspiration!
Sign up for our newsletter to receive the latest from Beauty Blitz delivered straight to your inbox.