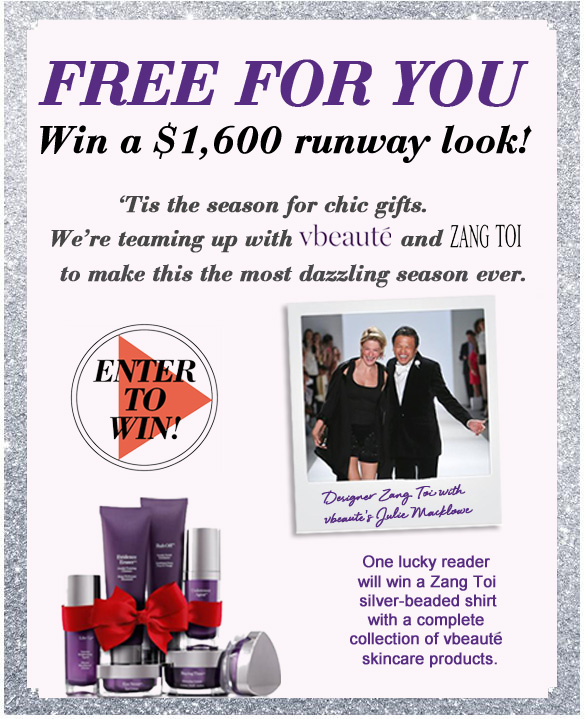 Want to have the most luxe holiday season ever?
Beauty Blitz, vbeauté skincare and designer Zang Toi are making that a priority, so we're teaming up for this sweepstakes. One lucky reader will win an incredibly chic, fabulous prize: a silver-beaded black Zang Toi shirt (in your size!) and complete set of vbeauté luxury skincare products!
If you win this incredible prize, you'll get all the essentials necessary to give yourself a holiday glow, whether you're traveling or making your rounds at holiday soirées. That means a gorgeous wardrobe essential straight off the runway and an entire range of truly innovative anti-aging skincare products sold at Bergdorf Goodman will all be yours! 
Best of all, signing up for this can't-miss contest is completely free and totally easy to do.
To enter, leave a comment below telling us your best beauty tip for traveling and sign up for vbeauté's newsletter. 
What's Included In the Prize?
Zang Toi silver-beaded top ($900). This black long-sleeve shirt is adorned with an intricate flourish of tiny silver beads that will make a chic statement paired with denim or pleated leather skirt for a glamorous rocker vibe. 
vbeauté It Kit ($165). Perfect for travel, this luxe set comes with five skin-pampering products tucked neatly into a silver metallic case that is TSA-approved.
vbeauté Lip Spread Anti-Aging Lip Gloss ($28)
vbeauté Eye Never Nourishing Repair Eye Creme ($85)
vbeauté Buying Time Everyday Eye Creme ($135)
vbeauté Lite Up Intense Brightening Treatment ($150)
vbeauté Undercover Agent Anti-Wrinkle Protecting Serum ($135)
vbeauté Evidence Eraser Gentle Foaming Cleanser ($48)
vbeauté Rub Off Gentle Facial Exfoliator ($48)
OK, enough fantasizing about flawless skin and beautiful wardrobe pairings. It's time to talk details. So how do you enter to win this incredibly memorable prize? It's simple:
To enter, just leave a comment below telling us your best your best beauty tip for traveling. To qualify, you also need to sign up for vbeauté's newsletter, which will give you access to events around the country, product discounts and the inside scoop on products before they debut in stores.
Good luck!
Get the latest beauty news and inspiration!
Sign up for our newsletter to receive the latest from Beauty Blitz delivered straight to your inbox.