Workout Chic at Betsey Johnson Fall 2013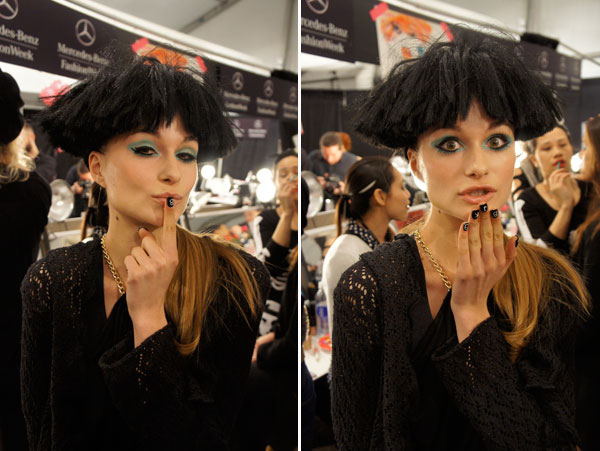 We're no strangers to Betsey Johnson's outrageous beauty looks on the runway. In fact, we look forward to them! This season was no exception as you can see by the photos. Betsey's collection featured her signature, fun dresses, but she also displayed a workout line. She even had her own gym class with the models right on the runway. But if this is how she wants us to look at the gym, we're not sure if we could pull it off.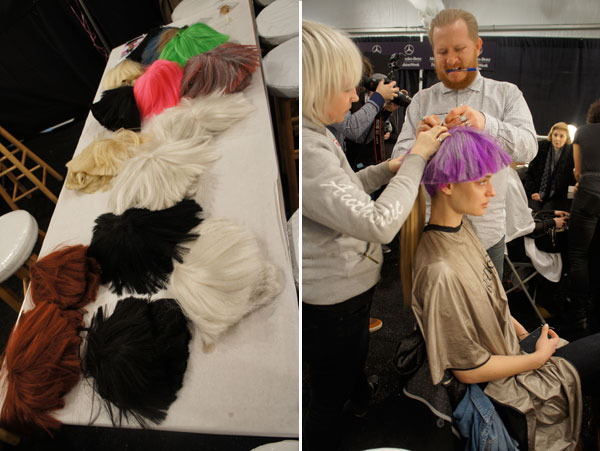 Over in hair, Rodney Cutler for Redken opted for two looks in one. First, he gave the models crazy, colorful wigs (that were meant to look like fake wigs) in the shape of a boy band mushroom cut. Second, he added a sleek ponytail coming out from underneath the wig because "every girl goes for a ponytail when she's going to the gym." "At Betsey Johnson, it's all about the entertainment," said Rodney. "You won't see it on the street tomorrow. We wanted something that would bring the show to life."
For makeup, Domenico Briguglio for Stila, gave the models "manic, mod, mania makeup." He drew a blocked off eyeliner on the top lash line and an "under cat eye" at the bottom lash line. He also added a pop of turquoise to the lid. "This season is all about colorful eyeliner on the runways," he said. "We wanted to incorporate what's hot for 2013 into Betsey's vision." To go with the manic, piece-y wig, he added strips of false lashes on the top and bottom lash line.  "The upper lash is a straight band of lashes pieced together to look straight - not so curly," said Dom. "The bottom lashes were cut into three strips. We took the strip, cut the curl off, cut it into three pieces, and spaced them out under eye to give that vibe that's going on with the hair. It's really cool."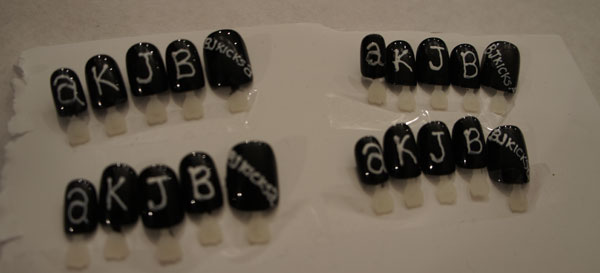 The nails were created courtesy of Michelle Class to coincide with the part-dressy, part-workout line collection. Models wearing the workout gear were given an "active-shaped" nail painted with Morgan Taylor polish in Little Black Dress. Each nail had a different letter written on it in white – B, J, K, A (aka Betsey Johnson Kicks Ass). Did you expect anything less? For the nighttime, dressy looks, the models' nails were painted with Morgan Taylor polish in All White Now. "We just sort of thought that black and whites complement each other for a day to night look," said Michelle. "The nighttime collection popped by using the white."
Are you bold enough to wear this look to the gym? 
Keywords
Get the latest beauty news and inspiration!
Sign up for our newsletter to receive the latest from Beauty Blitz delivered straight to your inbox.