Would Your Vanity Look Cooler With Black Beauty Tools?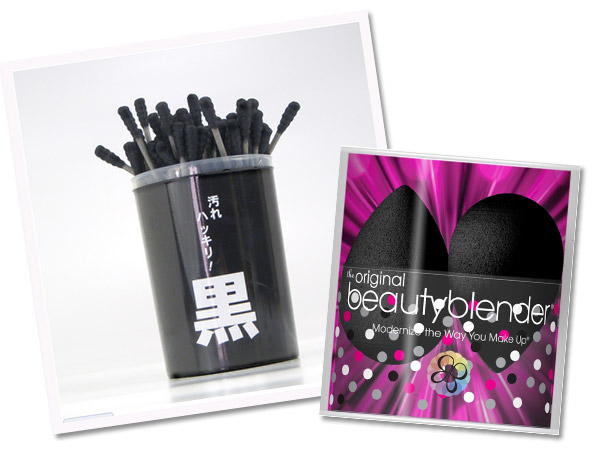 In Jay-Z's "Run This Town" featuring Rihanna and Kanye West, Beyonce's hubby raps about the color black. "All black everything. Black cards, black cars. All black everything." But when it comes to beauty tools, is all black really everything? We get it. It's just a color. But when products like cotton swabs and Beautyblenders get a noir makeover, we can't help but think if our makeup bags and vanities would look "cooler" with black accents. Sure, an LBD looks dynamite for any occasion, and when all else fails, a black liner looks chic on everyone. So maybe these products want in on the trend, too? 
When you think of those handy Beautyblender sponges that makeup artists swear by, you think of pink. Their signature shade stands out against your standard white, drugstore sponges. They are also pretty darn cute (not to mention they work wonders when applying foundation). So why the noir version? It works just as well as the pink, but we totally don't mind having the option. Oh, it also comes in white, too!  
We also spotted this interesting take on your standard cotton swabs, which are pretty popular in some parts of Asia. We're so used to seeing a clean white so a noir version is quite eye-catching. But a cotton swab is a cotton swab, right? Will a black one clean your ears better or help wipe off excess makeup under your eyes just as well? We don't think so. The only thing we can think of is that having black cotton swabs won't leave a visible yellow ear gunk stain that can be quite embarrassing to leave in your trash can. 
All in all, it's all about what you prefer. If you want a conversion piece lying around your bathroom and makeup kit, go for it! We have to admit, noir beauty tools would look cool displayed next to a black fragrance bottle and compact. It's all about the options! 
Do you think black beauty tools look cooler?
Keywords
Get the latest beauty news and inspiration!
Sign up for our newsletter to receive the latest from Beauty Blitz delivered straight to your inbox.