The Best Eye Makeup Remover I've Ever Used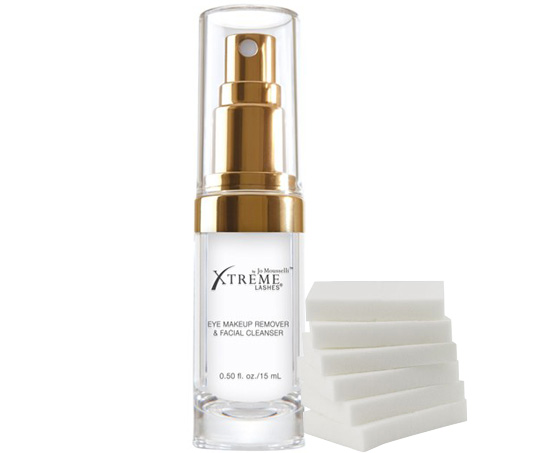 Taking off my makeup at night is the most daunting task. No matter which remover I use and how many times I use it, I still manage to get mascara and eyeliner all over my white towels post-wash. Or, even worse, whichever remover I do use makes my eyeballs feel like they just took a swim in hot lava. But a few weeks ago,
when I got my Xtreme Lash eyelash extensions
, I was introduced to the brand's crazy-good
Eye Makeup Remover & Facial Cleanser
. To say that it changed my life would be an understatement. 
Incase you've never had lash extensions before, one of the cons of getting them done is having to really take your time going around the lash line to remove your eye makeup. You can't just start rubbing your eyes with a towelette and call it a night, sorry to break it to you.
This product was made specifically to cleanse the eye area without messing up your eyelash extensions.
The formula is blended with aloe vera and six soothing botanicals, including chamomile, cucumber and witch hazel, to remove all traces of makeup in a cinch. They even offer lint-free
Cosmetic Sponges
and
Applicators
that will make you forget about ever using cotton pads and Q-tips to take your makeup off again. 
Now that my eyelash extensions have expired (they only last up to two weeks), I'm still using this remover to take my eye makeup off. It basically feels like water and takes everything off so easily. The spritz bottle is also super convenient, preventing you from wasting the precious product. The best part? No more lava eyes! 
The Xtreme Lashes by Jo Mousselli Eye Makeup Remover & Facial Cleanser is available
online
for only $15 for 15ml and $34 for 120ml.  
Keywords
Get the latest beauty news and inspiration!
Sign up for our newsletter to receive the latest from Beauty Blitz delivered straight to your inbox.