Buy Now: Yes To Liquid Hand Soap Collection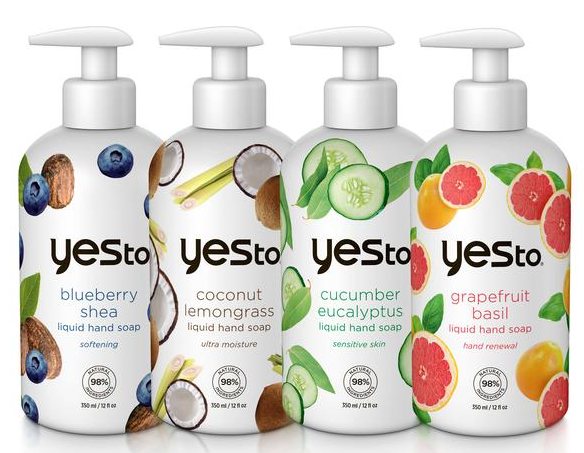 Hand soap is one of those products that everyone uses, but no one really talks about. But why is it that we obsess over hand cream and not soap? It's like using any old body wash followed by the most luxurious, sweet-smelling body lotion. Ever think about how much better your hands would look and feel if you cared about the wash and the cream? It's time to leave the dishwashing detergents for the dishes and get a good-for-your-skin hand soap – we're all big kids now. Yes To just launched a four-piece Liquid Hand Soap Collection that absolutely needs a permanent spot near every single sink in your home. 
Like all of Yes To's awesome products, the hand soaps are SLS- and paraben-free, and 97% natural. Available in four delicious scents, each wash has its own unique benefits. Blueberry Shea is rich in antioxidants, hydrates and improves the appearance of dry skin; Coconut Lemongrass is packed with fatty acids to restore dry skin; Cucumber Eucalyptus is soothing and softening; and Grapefruit Basil boasts ingredients for radiant and softer-looking skin. 
I know, it's really hard to choose between the four. Luckily, they're only $3.99 so you can buy each scent by the boat load. Get them at yestocarrots.com (ahem – the four-pack is currently on sale!). 
Get the latest beauty news and inspiration!
Sign up for our newsletter to receive the latest from Beauty Blitz delivered straight to your inbox.