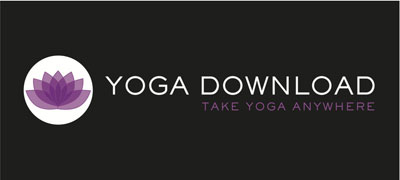 I have a confession to make: I hate going to the gym. Actually, I barely work out at all (unless you count walking up and down the subway stairs). The only work out that I truly enjoy is yoga. But, since commuting between New Jersey and New York City takes a lot of time out of the day, I hardly ever have time to drive 20 minutes to my hot yoga studio (nor do I feel like it). So how's a girl to get her asana on?
I'll tell you how: YogaDownload.com. I was first introduced to the site by a publicist and I was immediately intrigued. Here's the deal: Yoga Download offers tons of online video classes for different types of yoga all on one site. You name the type of yoga (Ashtanga, Fusion, Hatha, Hot, Power, etc.), and they've got it. You can either buy classes a la carte (although some are free) or purchase a subscription membership which allows unlimited streaming of any class on the site. Yoga Download even gives you the option to play classes once (at a cheaper rate) or download the class to have for a longer period of time.
The site offers videos featuring over 30 different certified instructors who make you feel like you're taking a personal, one-on-one yoga class in your own home, or anywhere you feel like doing some downward dogs. Each class is described by level, intensity, props needed, and customer ratings so you know what you're getting yourself into before you download. Some videos even come with a pose guide, which allows you to see each pose and perfect it on your own.
Already a major yogi and don't need an instructed class? You can customize your own session by choosing a series of short videos with your favorite poses. And if you're just not that into yoga, you can try out the Pilates and meditation videos.
I tried some classes myself and I'm totally hooked. The site is so easy to navigate and the classes and instructors are great. Don't believe me? Check it out for yourself. 
Get the latest beauty news and inspiration!
Sign up for our newsletter to receive the latest from Beauty Blitz delivered straight to your inbox.