Is Your Workout Routine Bad for Your Skin?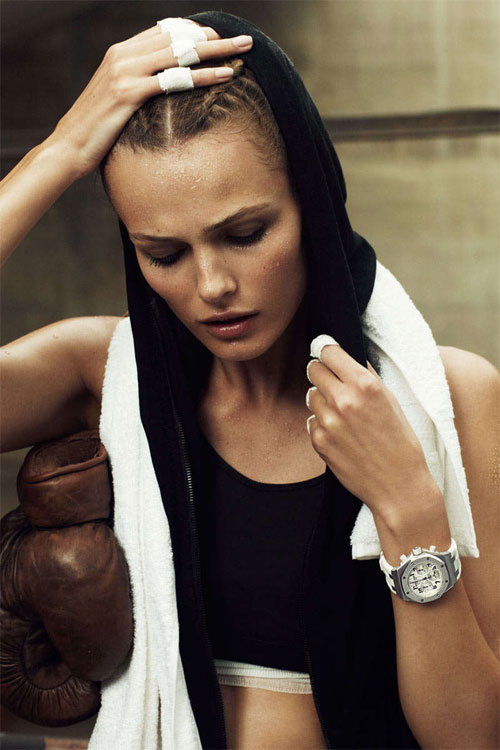 Photo: Lachlan Bailey for Vogue Paris, April 2012
If you've resolved to sweat more in 2015, your new dedication to fitness might have come with an unintended consequence: breakouts, blisters and other skin concerns. Here's what to do about a few of the most common workout-related issues.
Breakouts
Good news if you're worried about what your new spin class will do to your complexion: "Sweating does not cause acne," says New York dermatologist,
Eric Schweiger, MD
. "Sweat glands are not the same as oil pores." Clogged pores are what causes zits, not your cardio glow.
But you're not crazy if you're seeing spots. "While sweat alone cannot cause acne, there is a condition called acne mechanica, which is a form of acne that is caused by a combination of heat, friction and covered skin," Dr. Schweiger says. "It's often found on athletes who sweat under their helmets. Other culprits of acne mechanica include tight clothing, snug backpack straps, and headbands worn for long periods of time." An anti-acne cleanser with salicylic acid, such as
Neutrogena Body Clear Body Wash
($7) can help clear up body breakouts.
Blisters
Don't break up with your new running shoes just yet. Blisters are caused by friction against damp skin, so if you can minimize one (or both) of those factors, you'll find sweet relief. Products like
Band-Aid Friction Block Stick
($6) can work wonders, or you can also use regular
spray anti-perspirant
to keep feet dry (this is apparently what soldiers at bootcamp do!). Meanwhile, companies like
Bunga
make pads designed for every type of foot issue, from blisters to lost toenails (gross, but a fact of life for distance runners). 
But feet aren't the only appendages that can suffer when you sweat. If free weights or machines at the gym are doing a number on your hands, don't apply moisturizer before you hit the gym. Instead, minimize sweaty palms with
gym chalk
, or a no-mess
liquid grip product
that won't leave marks on your black leggings. (Those gloves you see gymgoers rocking in the weight room don't always help, because your hands still sweat inside them.) Then load up on
hand cream
when you get home. 
Dry Patches
If you're an eczema sufferer, your own body heat and sweat can actually aggravate the skin condition. (I always notice irritation on my face after a particularly intense workout.) While there's no way to stop your skin from reacting to salty perspiration, blotting with a towel or sweatband between sets can help minimize the effects. Sweat on, sister.
Get the latest beauty news and inspiration!
Sign up for our newsletter to receive the latest from Beauty Blitz delivered straight to your inbox.