Zombie Hands Are Real, We've Got the Cause and Cures
We spend a lot of time ensuring that our skin maintains its youthful appearance, but have you ever thought about anti-aging for your hands? It may not be the first skin issue that comes to mind, yet "zombie hands" are becoming more and more noticeable on celebrities like Sarah Jessica Parker and Madonna. Their youthful complexions aren't really fooling anyone anymore due to their wrinkled, veiny hands (not that we love them any less). We got the scoop on how to treat zombie hands from Doctors Luis Navarro and Mitch Chasin.
"Once a woman hits her mid-forties, she will usually start to notice that her hands may look a little worn down. This is because the top of the hands have started to lose collagen, the wonder protein that makes our faces and hands look full, healthy and smooth," said Dr. Chasin, Founder and Medical Director at Reflections Center for Skin and Body. "Collagen depletion happens naturally due to aging, but prolonged exposure to sunlight can also contribute to its loss. Our hands are typically the one part of our body that gets the most rays during our lifetime, and it shows. Fortunately, there are treatments that can easily reverse the damage."
To rejuvenate zombie hands, Dr. Chasin recommends Fraxel Re: Store Dual Wavelength Laser, a resurfacing laser that reverses signs of aging and sun damage. "I use this as a treatment for the back of the hands because it is relatively gentle, softens the skin and also improves tone and texture," said Dr. Chasin. Another option is Plasma Resurfacing, a skin regeneration procedure used for reducing wrinkes and improving skin's texture. "The Portrait PSR introduced a breakthrough plasma technology that is proven to stimulate a natural regenerative process of the skin," he said. "I use this technology when treating the hands because it treats numerous issues at once – wrinkling, skin laxity, surface discoloration, and more."
Dr. Luis Navarro is the Director of The Vein Treatment Center in NYC and has devoted his life to treating vein disorders like varicose and spider veins. When it comes to visible veins (a prominent characteristic of zombie hands), Dr. Navarro recommends Sclerotherapy. The treatment features a mild chemical solution that is injected into the veins, which irritates the walls of the vessel and makes it collapse. This causes the the body to reabsorb the vein, re-routing the blood into a healthy vein to restore circulation. Dr. Navarro combines sclerotherapy with fillers to restore the youthful appearance in hands. Costs of sclerotherapy start at $1,000.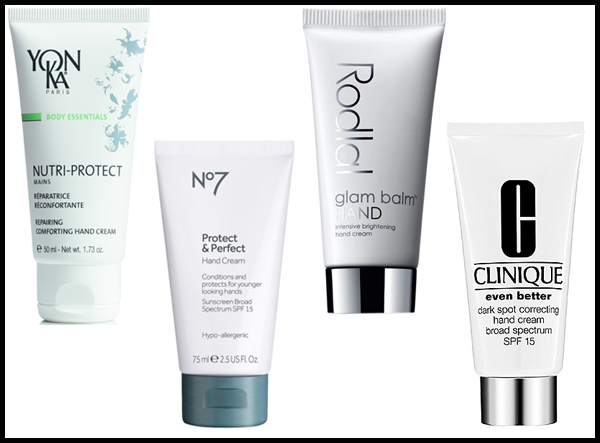 We know that getting costly treatments (especially on your hands) is not always the ideal situation. Starting an anti-aging hand care regimen is an inexpensive way to treat and prevent zombie hands. We rounded up four of our favorite hand creams that are sure to keep your hands looking and feeling younger, so the only zombie hands you'll be seeing are the ones on The Walking Dead.
Yonka Nutri-Protect Mains, $33, Boots No7 Protect & Perfect Hand Cream SPF 15, $14.69, Rodial Glam Balm Brightening Hand Cream, $39, Clinique Even Better Dark Spot Correcting Hand Cream Broad Spectrum SPF 15, $29.50.
Keywords
Get the latest beauty news and inspiration!
Sign up for our newsletter to receive the latest from Beauty Blitz delivered straight to your inbox.